As mentioned in my previous post on Hanoi HERE , I will definitely like to share my experience of Halong Bay with you guys because it's a recently declared 7 natural wonders of the world, and I just want you guys to go there before it gets too touristy!
Before we went, I actually looked into the cruises to take on Halong Bay as many mentioned it would be a long ride from Hanoi and boy, it was (4 whole hours)! So, we decided to take the 2 day 1 night cruise on Halong bay on a luxurious cruise rather than the one day trip on an open air "sampan"(wooden boat). I was sooooooo glad I made that decision to get a better cruise, but I wish we took the 3 day 2 nights cruise instead…
Why should you take a luxurious cruise instead of a cheaper one?
– Because you basically journey to Hanoi to see Halong Bay, and it's much nicer at Halong Bay
– The cruise is awesome, with scenic views throughout, and a tour for you along Halong Bay
– You would be too tired from travelling to do just a one day trip which means 4 hours by car(your journey starts at 730am) to Halong Bay, have a 4 hour trip, and another 4 hours back!
Now, onto the awesome cruise…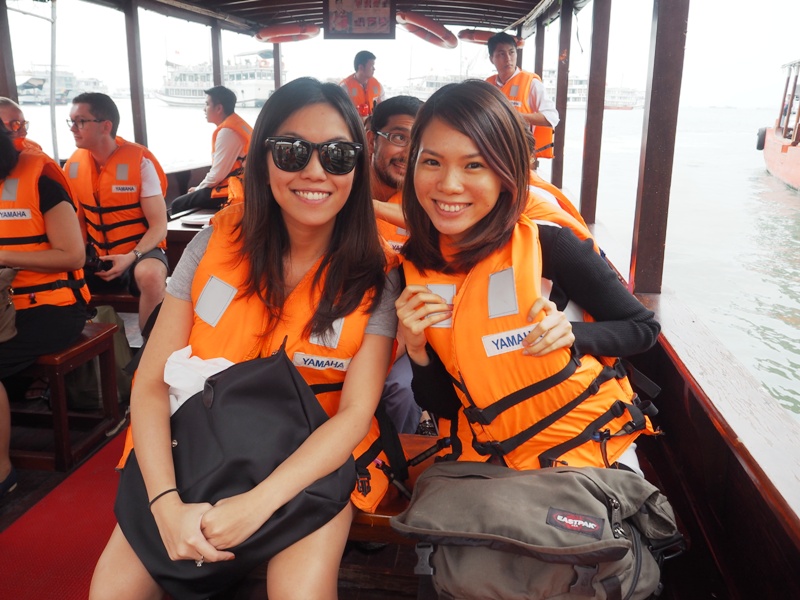 Upon arrival, we received really good service in terms of check-in at the dock, and it was time to head to the cruise via a feeder boat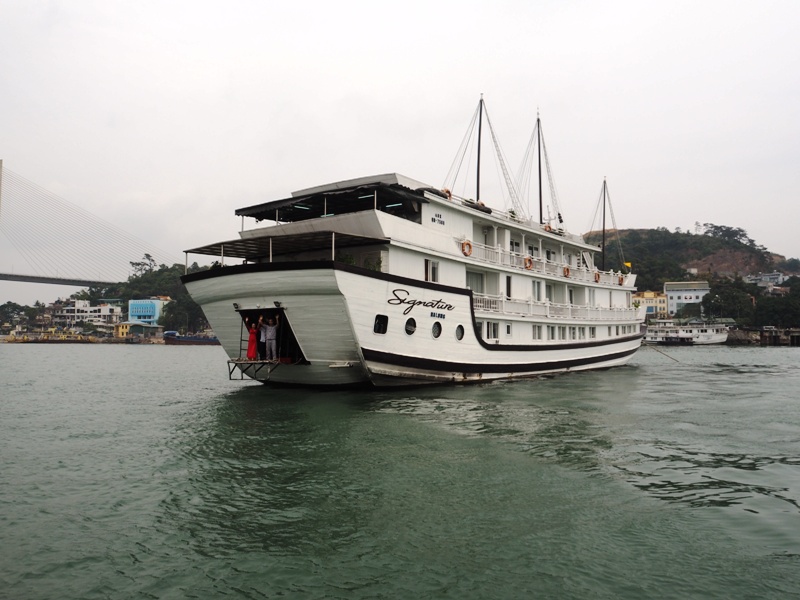 The friendly staff waving at us from the cruise! It's not a huge cruise but it's nice for a short cruise on the bay, and has everything you will need even a masseuse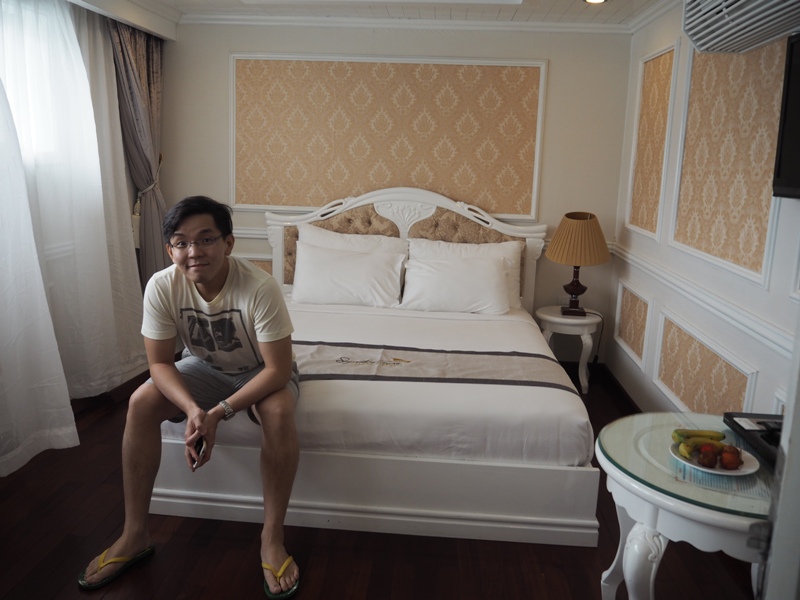 We took the cheaper room because I wanted a bathtub, but the other upper deck ones have a balcony instead which is nice and bigger. The room had everything from a tv(which has no reception), to all your necessities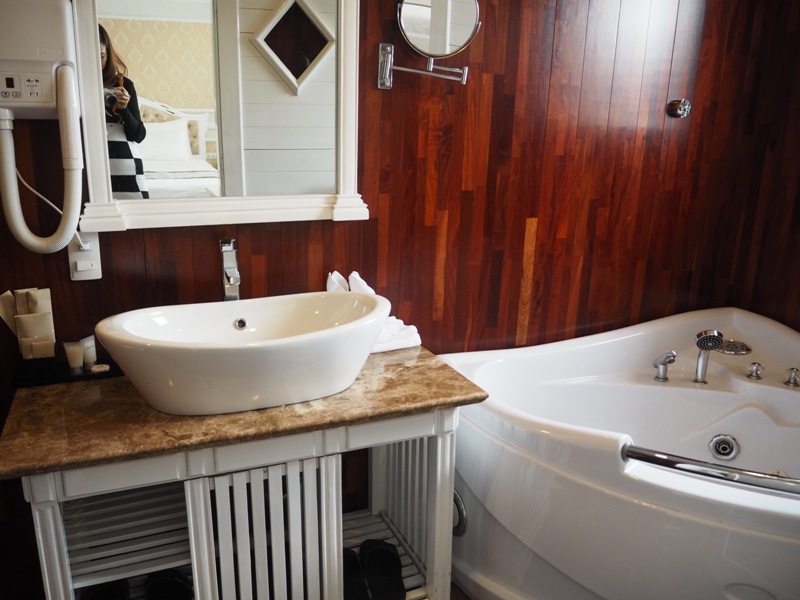 Clean and well equipped toilet with the bathtub..LOL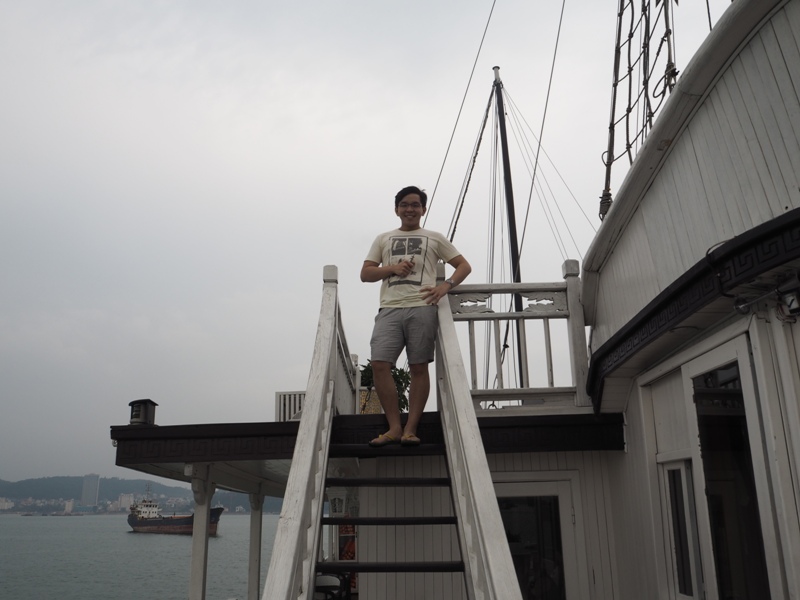 Please forgive me, they had a beautiful upper deck with lounge chairs which I didn't take a picture of.. it's where you will get to practice taichi in the mornings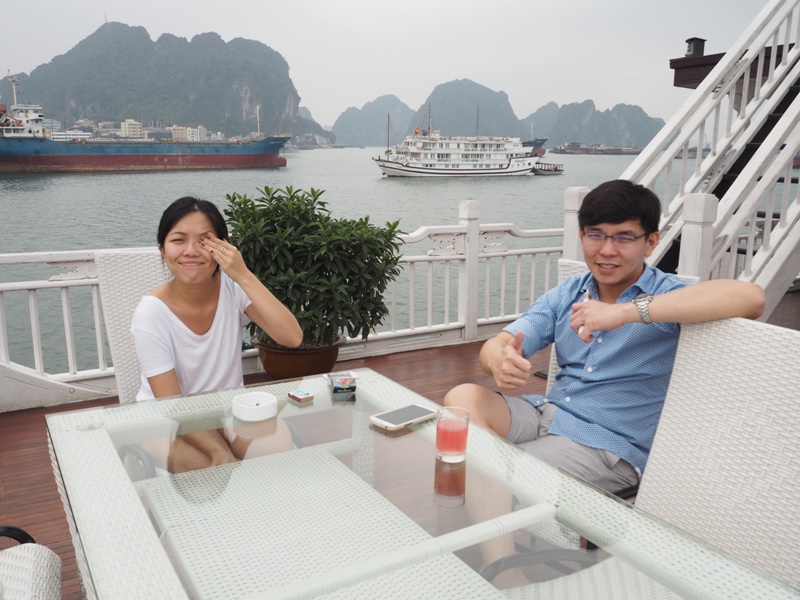 Lower deck for you to chill
And the cruising begins, loving the wind but it gets chilly in the evenings on the bay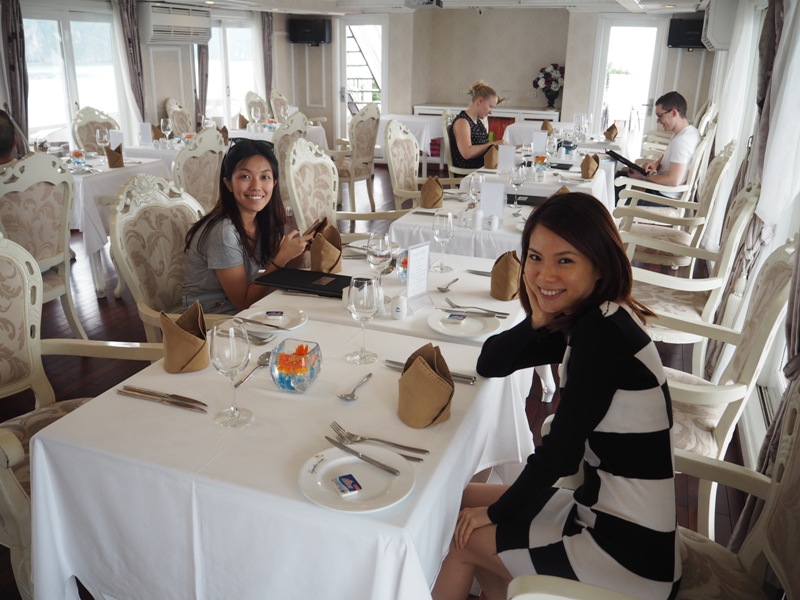 Love the colonial dining room, with it's table settings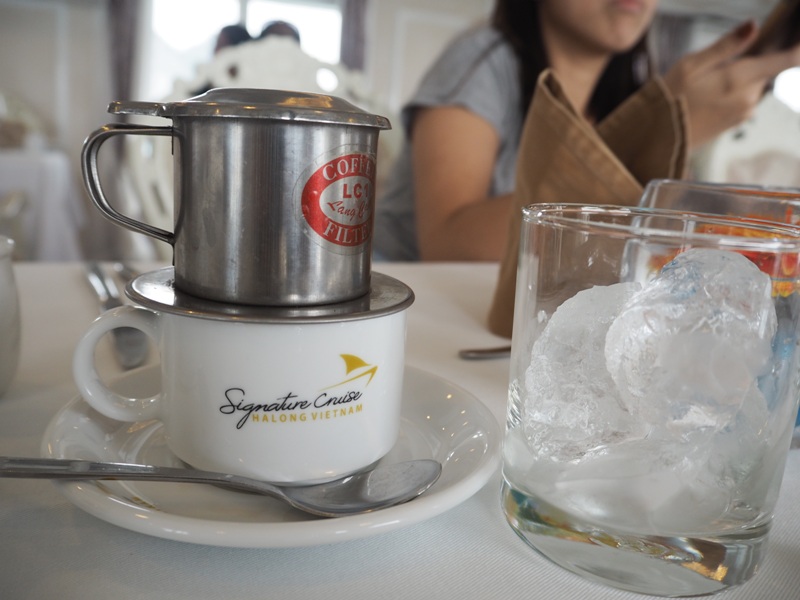 They had Vietnamese coffee which May Sze and Ben were ecstatic over!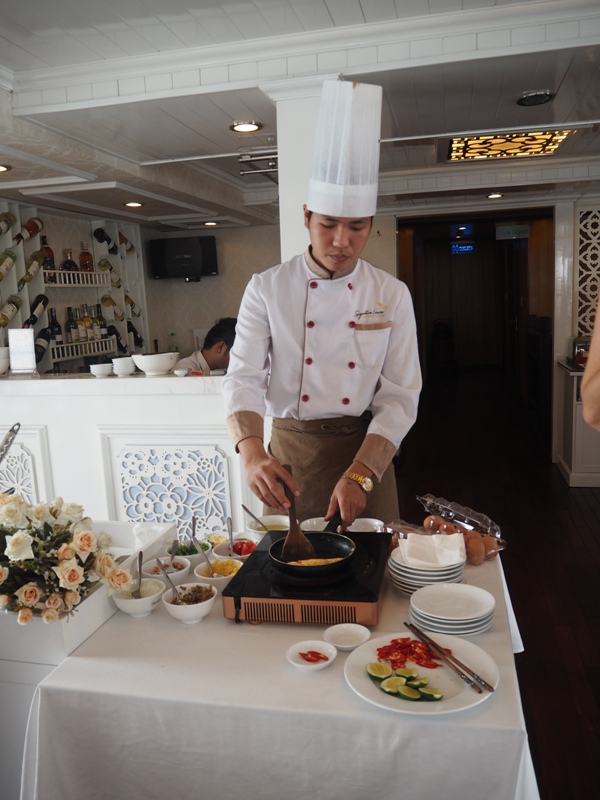 A chef to cooked your eggs for you
As for the food, it's all provided for from the time you enter at 12.30pm to the time you leave about 11am( you will be stuffed with brunch food from the cruise because the breakfast is at 7am)!
As for the taste, I wouldn't say it was superb, but edible. They made up for it through the presentation of the food as you can tell below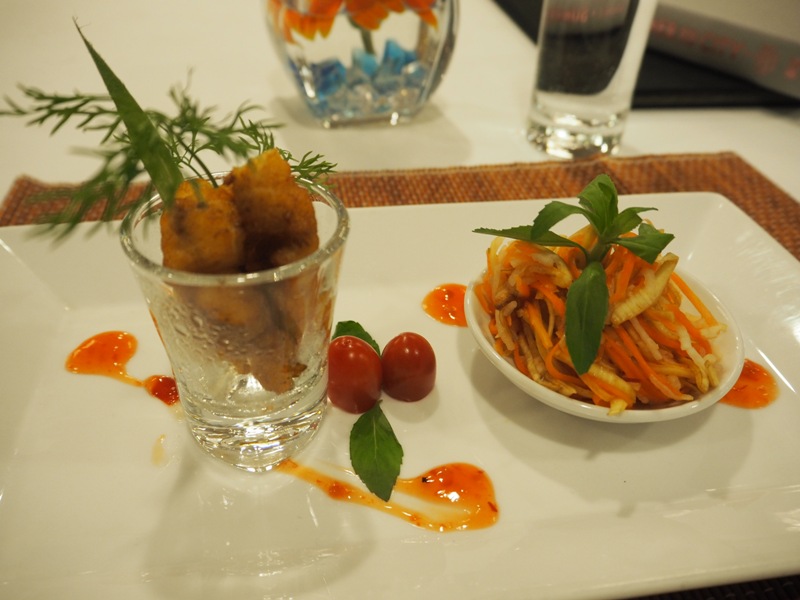 Starters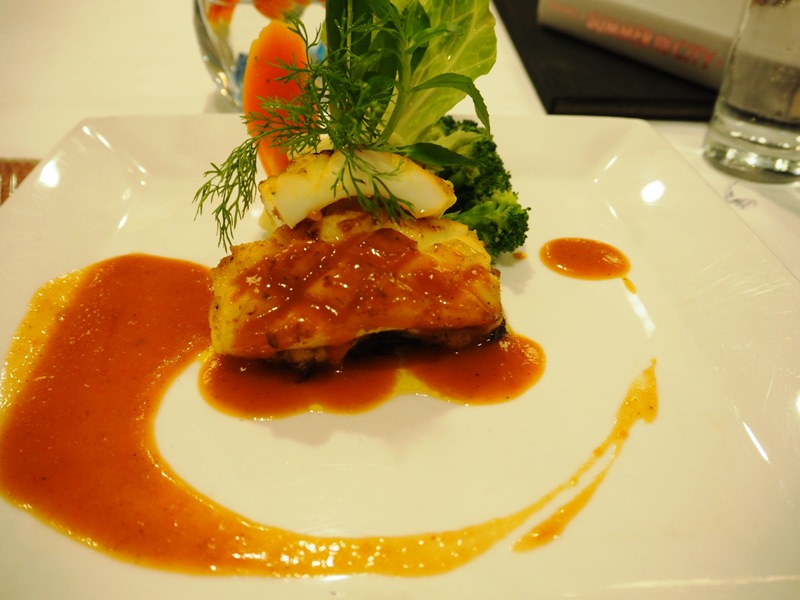 Mains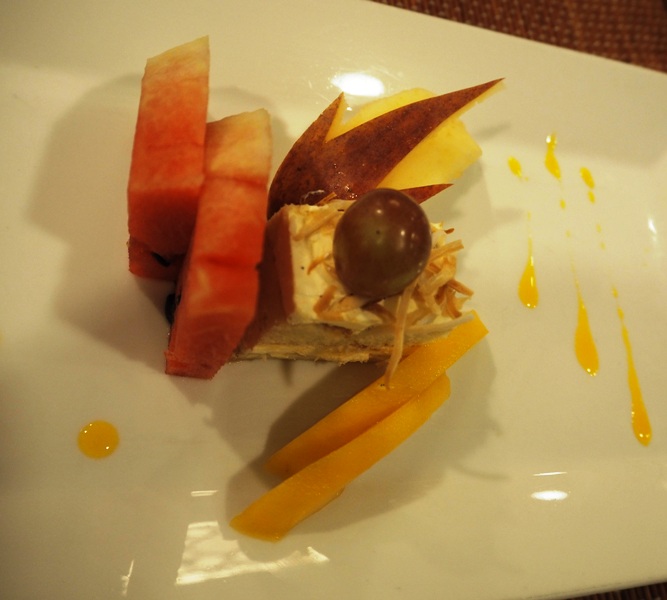 Desserts
If you are vegetarian, or allergic to anything, they will note it down beforehand when you register, so please remember to write it down while booking online.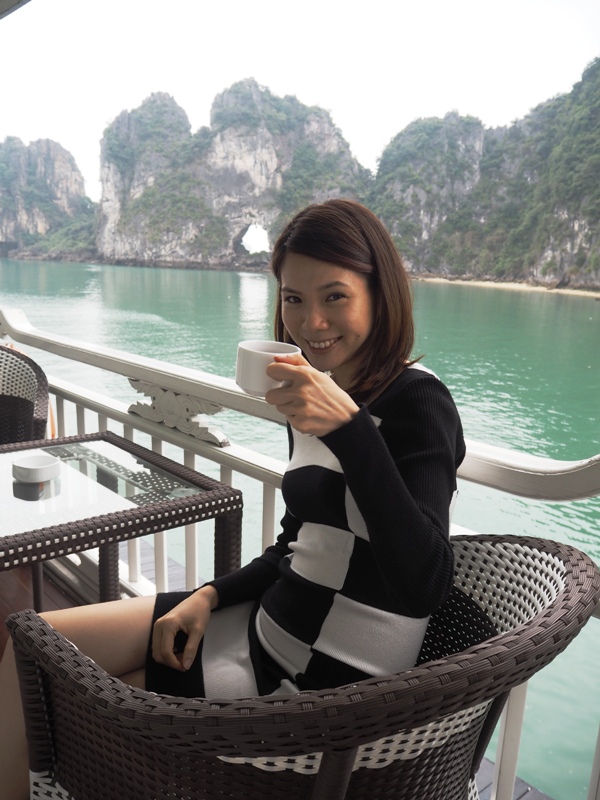 Enjoying a cuppa of tea on the bay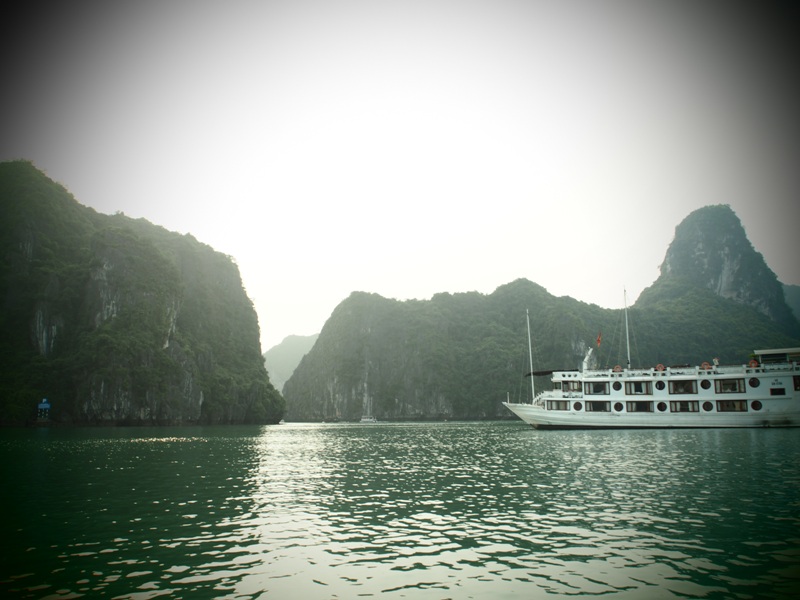 Loving the view from the cruise.. The other cruise is the cheaper range one as you can tell
I liked everything about the cruise and you won't feel sea sick because the water at Halong Bay is very calm. In addition, everything is planned for you once you step foot on the cruise making you super busy! I do wish we had more time to relax but the tour is pretty fun which you will see in my next post.
Do note that it's not too cheap for the upper end cruises like the one I took for 2 days 1 night.. Our bill came up to 850 USD for 2 rooms with food and everything included BUT you need to pay for your own beverage.
However, I insist you go for a higher end cruise like Signature(the one I took), or Paradise because a crappy cruise or a one day trip will not be enough for you to enjoy the Bay and what it has to offer.
Stay tuned for my next post on the tours and picturesque scenery of Halong bay 🙂
Love,
Mei Sze