I've expressed that I will be focusing alot more on myself this year, and that for one includes traveling because I just love to explore the world and it's different culture. Writing and sharing wanderlusting pictures with you guys is one thing BUT when it comes to  being real, I am as real as it gets.. no honey coating, just honest truth based on what I have experienced.
For those who are wanting to travel to Vietnam, Hanoi in particular, I encourage you to read this first before heading there OR it may change your mind.. not too sure, you can be the judge 🙂
Before I went to Vietnam, Halong Bay was raved about to me and of course the food in Vietnam..how delicious it is…………………….(long pause). Halong Bay which will be shared in my next post and is a MUST Go(In My Opinion) will be saved for later as I want to save the best for last about my trip to Vietnam.. but after being in Hanoi for 3 days, I was glad to be flying home to KL… and here's why?
1. The Food was not up to par ESPECIALLY street food!
Yup, you read right, I can say that it's either we didn't eat at the right places OR Vietnamese food just does not suit our taste buds. One to "experience" local culture, the first shop we tried was of course a Vietnamese coffee shop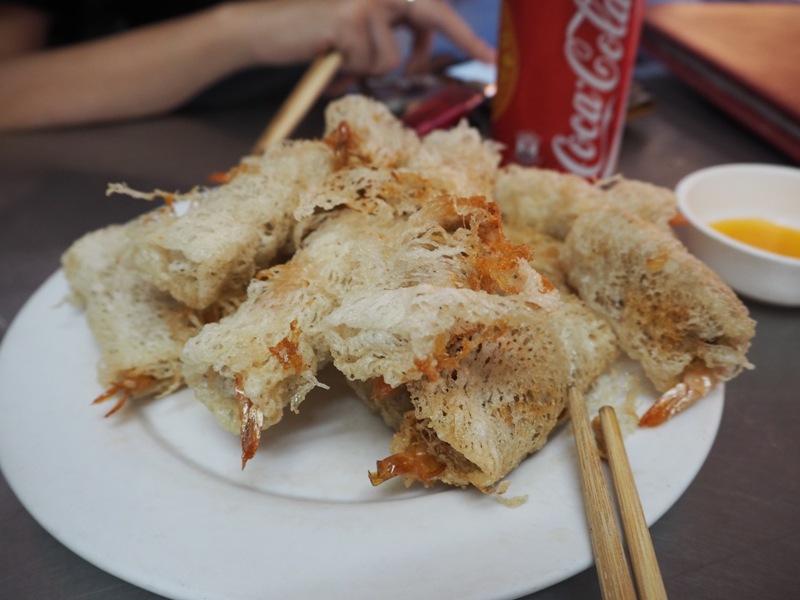 We ordered "spring rolls" because that's what it said on the menu and THIS came out… First, none of us ate prawns and this was clearly NOT the vietnamese spring roll we had in mind… sadly, this went to waste!
First "Pho" and it was bad.. not only did it come on a tray with a guy riding a motorcycle delivered to the coffee shop BUT it had no taste and the chicken felt dead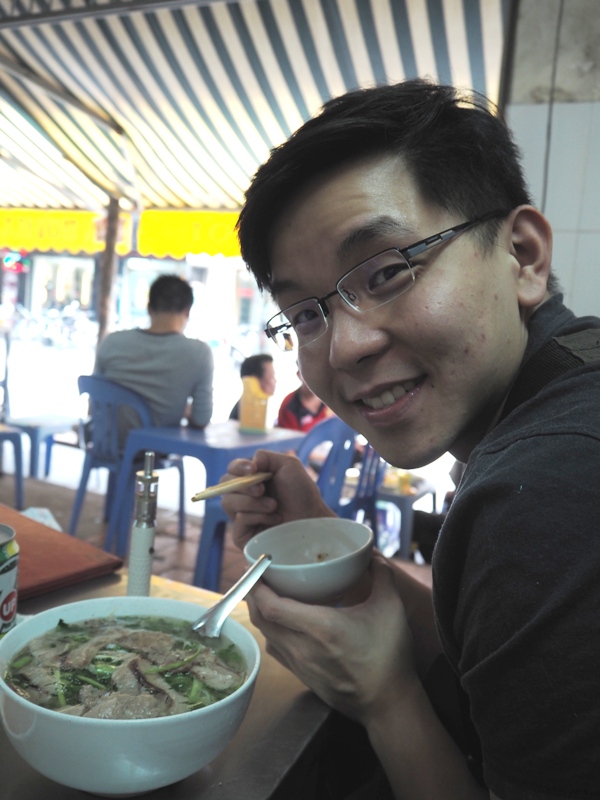 Ben had to crack a smile to eat his beef pho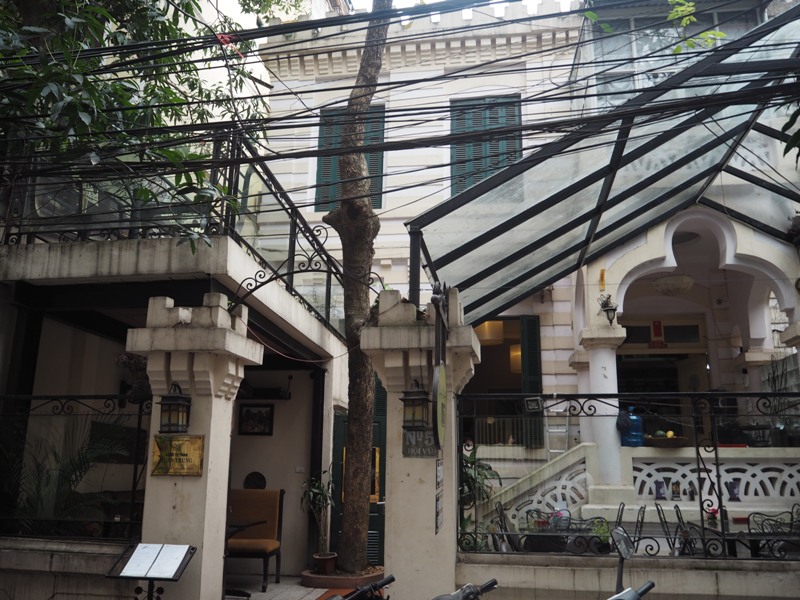 While walking along the side streets of the Old Quarter, you can find quaint restaurants BUT the food was not good again. It looks quaint from the outside but when you are inside, most restaurants hardly have A/C switched on and the toilets are pretty dirty unless you go to the fine dining or hotel ones
My tofu dish was the only good dish amongst us three as we ordered "spring rolls" and "Pho" again and we had the same experience. The Spring roll came fried which was fine BUT the smell of beef within it was too strong AND May Sze's Pho was bland once again. After that, believe me, we stopped trying to hunt for the Perfect Pho!
*The only saving grace – Vietnamese Coffee
Yup, you heard right, Ben and Tan basically ordered Vietnamese coffee everywhere they went because it tasted good and was strong enough
2. Avoid eating on the Streets as the FOOD and AMBIANCE is just dirty!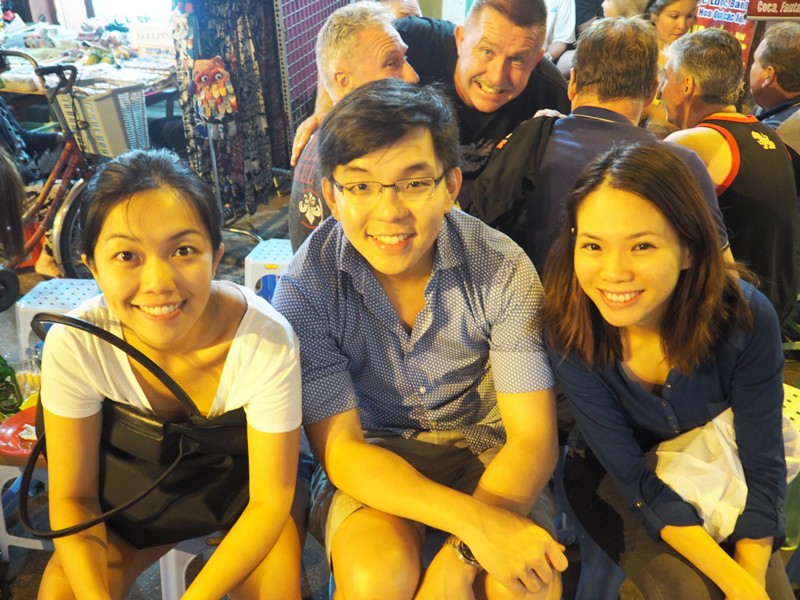 Yup, we just had to smile because the server was excitedly taking the picture from us. Imagine this, sitting on very tiny stools(basically squatting) by the side of the street where motorcycles and even the garbage truck passes right int front of you.. Your "table" is the another small stool. The worst part about eating on the street or trying to was the fact we got ripped off because 1. we couldn't read the menu as it was in Vietnamese 2. We knew he charged us alot more than the local prices
Some of the only street food we recommend or coffee shop food would be the buttered fries
And the fried corn which was yummy! You can probably see street vendors selling this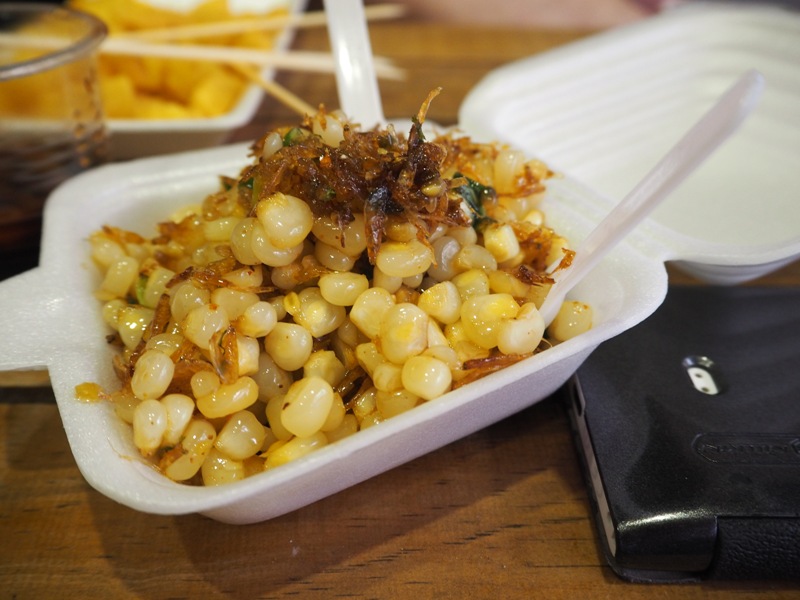 Closer look at it
Ben mentioned that the pork satay is really good!
3. The sky is ALWAYS hazy and dark
Yup, take a look at the sky at 5pm
Us by the famous "Hoan Kien" Lake which is a tourist attraction. It would have been picture perfect if you don't constantly hear honking every single second and if the sky wasn't so hazy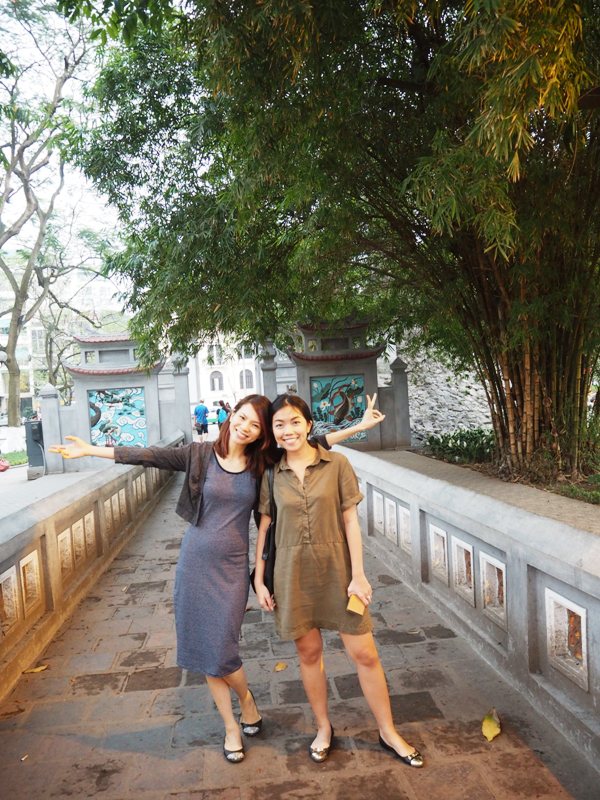 The entrance to the Huc Bridge
4. Noise pollution is Crazy and you can't seem to cross roads
Yup, you basically will not enjoy any scenic walk around the old quarters because of the traffic. There's constant honking every second, I kid you not AND crossing the road feels like being a part of Amazing Race! Traffic lights don't work over there and everyone just continues riding their motorcycles even when they see you. The best way is to walk as steadily as possible if you need to cross the road and they will swerve pass you.
For Tan, Ben and I, being in Hanoi didn't feel like a vacation, simply constant worrying about what to eat next, and just simply walking around was stressful! Everytime we arrived back at our hotel, we just wanted to sleep. Although our friends advised us to eat in restaurants only because of the hygiene, we felt a need to at least try local food, how they eat, and it wasn't pleasant. I actually saw a waiter picking up a piece of chicken from the plate left behind after their customers vacated and I was pretty shocked.
It was definitely a culture shock for us! Basically, the traffic, traveling around by foot or car was a hassle AND eating which is such an important thing especially for me or any Malaysians for that matter.
My next post will detail the hotels I stayed at and if you still insist on going to Hanoi, that is a MUST read then.. and spas in Hanoi.
This is of course just our experience, and I am sure others had a pleasant experience, but do share if you think otherwise…
Love,
Mei Sze
P.S. All photos taken by my trusty Olympus EPL7