One of the things I have learnt alot more about since my experience with colon cancer last year is my bowel system. I guess when you are afflicted with a certain condition, you will suddenly start reading up on it, and with the help of google, many of us are more knowledgeable on the diseases and health conditions we are facing or about to face.
I didn't want to share my side effects so publicly with you guys after my second surgery but since I am writing about Inflammatory Bowel Disease(IBD), it's only fair you guys should know some the side effects I am currently facing is pretty similar to IBD patients such as the below:
Yup, since I have a shortened rectum as 2/3 was removed during the surgery, I tend to go to the toilet more often with an average of 4-5 times a day(my new norm). On bad days, it can be up to 10-15 x.
However, for IBD patients, they can go up to 20x a day on a REGULAR BASIS and have severe abdominal pains on top of that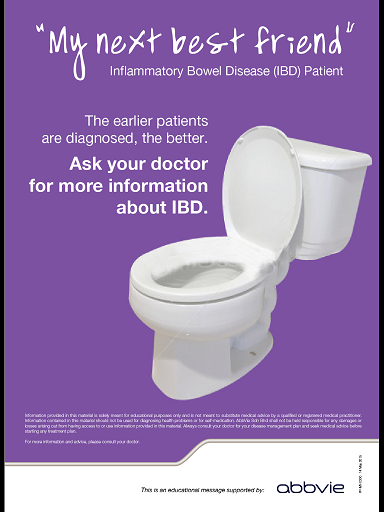 Hence, the toilet is a frequent companion for IBD patients which disrupts their quality of life.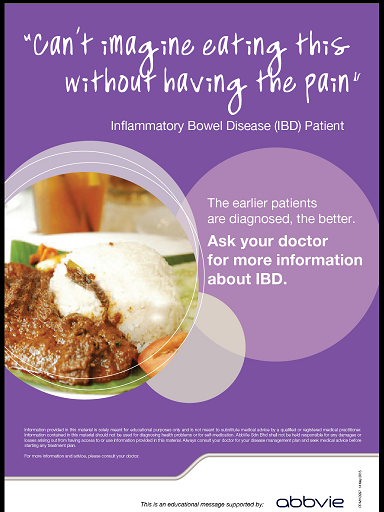 As mentioned, they have severe abdominal pains as well which makes them extra careful on what they eat. I  can understand this as I started developing gastric problems after my surgery. I didn't know what it was as I have never experienced gastric before but my doctor told me it was gastric… Mine is not as severe as theirs though, and their frequency is alot higher!
Another thing that happens is that blood is also seen in their stool which many of you have asked me about before.
So, what is IBD?
– Inflammatory bowel disease is a disease mainly affecting the large bowel (colon) and small bowel, where the bowel becomes inflamed and ulcerated.
– It is divided into two conditions, ulcerative colitis, which involves only the large bowel and Crohn's disease, which affects both large and small bowel.
Recently, I was invited to host/emcee the First World Inflammatory Bowel Disease Day in Malaysia organized by the Crohn and Colitis Association of Malaysia(CCAM). The founder of CCAM is a sufferer herself and she's a doctor on top of that!
In order to join the fight, you need to be aware first as early detection is imperative to handle the disease as there is no cure for it
Don't be ashamed if you have IBD, but rather find out more about it, and seek a doctor's help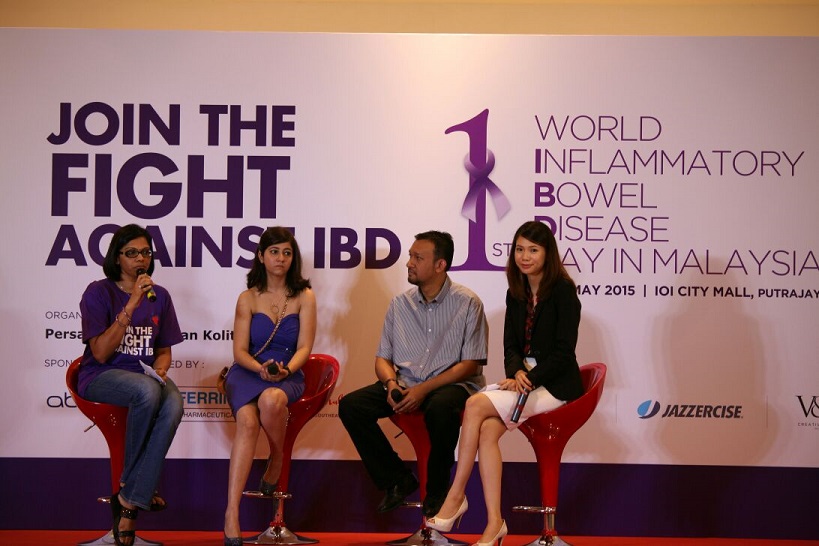 Professor Shanti(Consultant gastro Enterologist, far left) asking the patients some questions. The lady next to Professsor Shanti is the founder of CCAM and actually was diagnosed two years late since the onset of IBD. Dr.Roshnee suffered for 2 years not knowing what it was, and she was studying to be a doctor which made things worse.
The other patient next to me is Futra who suffers from Ulcerative Colitis. Both of them inspire me a lot as sufferers of IBD can't really lead a normal life but they look normal. I know how it feels as my side effects are similar but mine is not so severe but they have to live with it for the rest of their lives on top of that.
Prof Ida & Associate Professor Dr.Raja Affendy shared and answered questions about IBD from the public. They did mention about seeking a doctors consultation as soon as possible if you have any symptoms and taking the medication they prescribed as these medications are able to alleviate the condition and reduce inflammation.
The event ended with a performance by Dr.Roshnee dancing on this toilet bowl. How apt is it to have a toilet bowl at the event!! 🙂
Another thing the doctors mentioned was the importance of exercise which I have stressed in my previous post HERE and if you want to exercise to music, why not try Jazzexercise?
As IBD is increasing in Malaysia, it's best to know more about it and if someone has it, at least you are able to sympathize rather than make the sufferer feel awkward.
If you have any questions or want to be a member which I believe is a good platform for sharing and as a support group, do drop an email to [email protected]
~Be one step ahead of the game by equipping yourself with knowledge on the disease
Love,
Mei Sze