When I write about something, you can bet that I am really excited and believe in it!!! I don't simply spew nonsense because I am a consumer myself!!!
As I haven't applied nail polish or went to a pedi/mani since middle of last year where I had an incident where I was being wheeled into surgery AND my nurses realized that I had dark blue nail polish on my toes… They panicked scrambling to look for nail polish remover as you basically can't go in for surgery with painted toes because doctors can't use your toes as a signal of blood circulation too! Ding! You already learn something new today:)
Yesterday, as I was in Sephora, I saw this cute lil booth setup offering free manicures to try out their latest product for gel nails. For those who apply gel nails, you would know it takes at least 1.5 hours for a proper gel nail manicure right? Was I surprised when mine turned out to be a mere 30 minutes only inclusive of nail art… WOW!
What is the brand called?
The amount of colours offered
This promo offered is for Mother's day and lasted from 8-10 May
Take note that these steps you are about to see can actually be done at home as their starter kit comes with all the items!
Step 4 – After applying the twin coat, you can cure it under the LED lamp to dry it for 60 seconds
Please cure for 60 seconds under LED lamp after applying the colour. You can also repeat the polishing and curing to make the colour thicker and to stand out
Of course if you are artistic, you can apply your nail art on your own
I had this idea that you can get the set and get someone to do it for you which will be cheaper because it's your own nail polish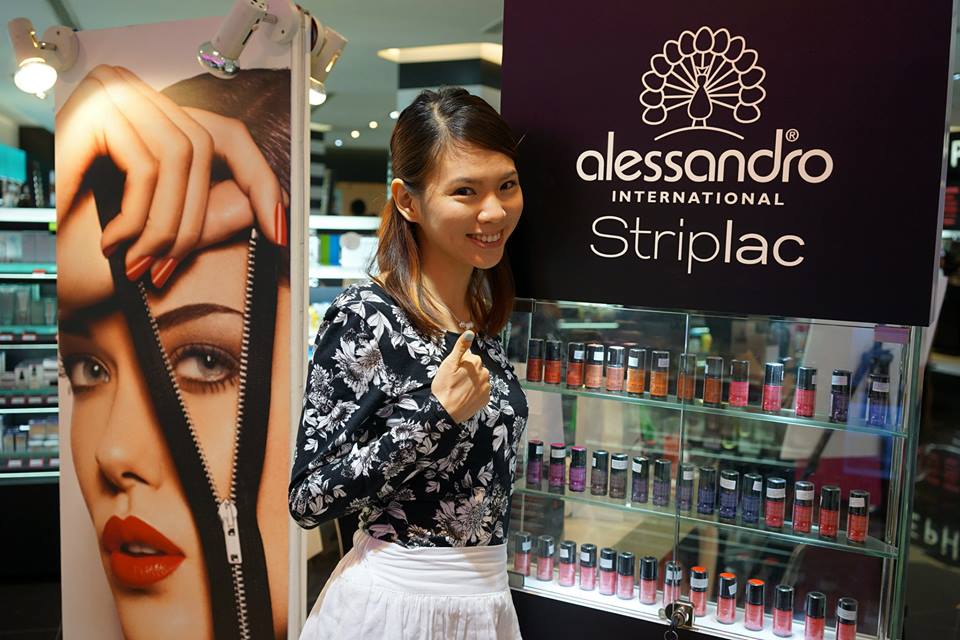 Ta-da… Literally done in 30 minutes hence the huge smile and the thumbs up!
Back home, I opened the Striplac Starter kit(RM477) to show you what's inside..
I basically bought more colours(RM60 each) so I don't have to keep going to Sephora to add onto the colours I have
This is to dry your nails, and you can tell it's fast as there's a timer of 10s, 30s, and 60 s
The first three steps in these two items
It comes with one colour, the twin coat, and the wipes
As you can tell from my explanation above, it's fast and simple to apply gel nails using striplac and easy to remove as well. You don't have to worry about looking for a remover as you can just peel it off instead. Nifty eh?
It's currently ONLY sold at Sephora, so do head there to get your set and nail colours.
For me, I can start having nail polish parties with my girls at home:)
Enjoy,
Mei Sze