As you all may know, style is NOT my strong suit, but I TRY my best to dress up everytime I emcee an event or attend one! If you have seen some of my newspaper interviews(where they don't usually style you), my dressing is very standard with a blazer and sometimes, unkempt hair!
Like in this cover photo for Benchmark in Focus Malaysia
or in Emmagem 
The secret behind looking good in magazines, and at events is when I actually go to a salon to style my hair(I know, so expensive!), and when there's a make-up artiste that does it for me! Yeap, the cat is outta the bag… Naturally, I am super UNGLAM!
This time around for the recent LongChamp event, I've decided to curl my hair with the Babyliss Pro Curler which is a magic tool sent from the heavens… which you can see below and actually put together a nice ensemble
Hair – Babyliss Pro Curler (MUST get)
Outfit: From Australia thanks to my bestfriend Tan May Sze
Shoes : Nine West
This lady right here basically dressed me because she is a fashionista herself
Now, just to share with you a little bit about the event
Was very pretty, with cute desserts and drinks which you can order from a personalized menu. Derek and May Sze telling us more about the personalized Le Pliage and it's texture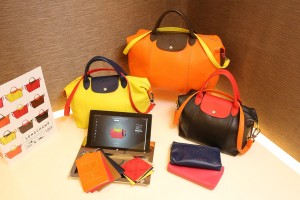 Comes in any customizable colors and you can engrave your initials on it! Finally, this service is in Malaysia, but it takes at least 6 months to get it done though…so watch out for that!
Latest color available for their bags, shoes, heels, and clutch..very summer!
Natalia and I each holding a personalized Le Pliage Le cuir
All of us in front of the LongChamp store in Pavilion!
To be honest, quite a number of people were shocked when I told them I did my own hair this time.. and I guess putting in a bit of effort to look jazzed up doesn't hurt eh? Makes you feel more confident too:)
Anyway, if you are interested in any of the LongChamp bags, PM me, and I will tell you something exciting, just for your ears only!!!
Yours truly,
Mei Sze