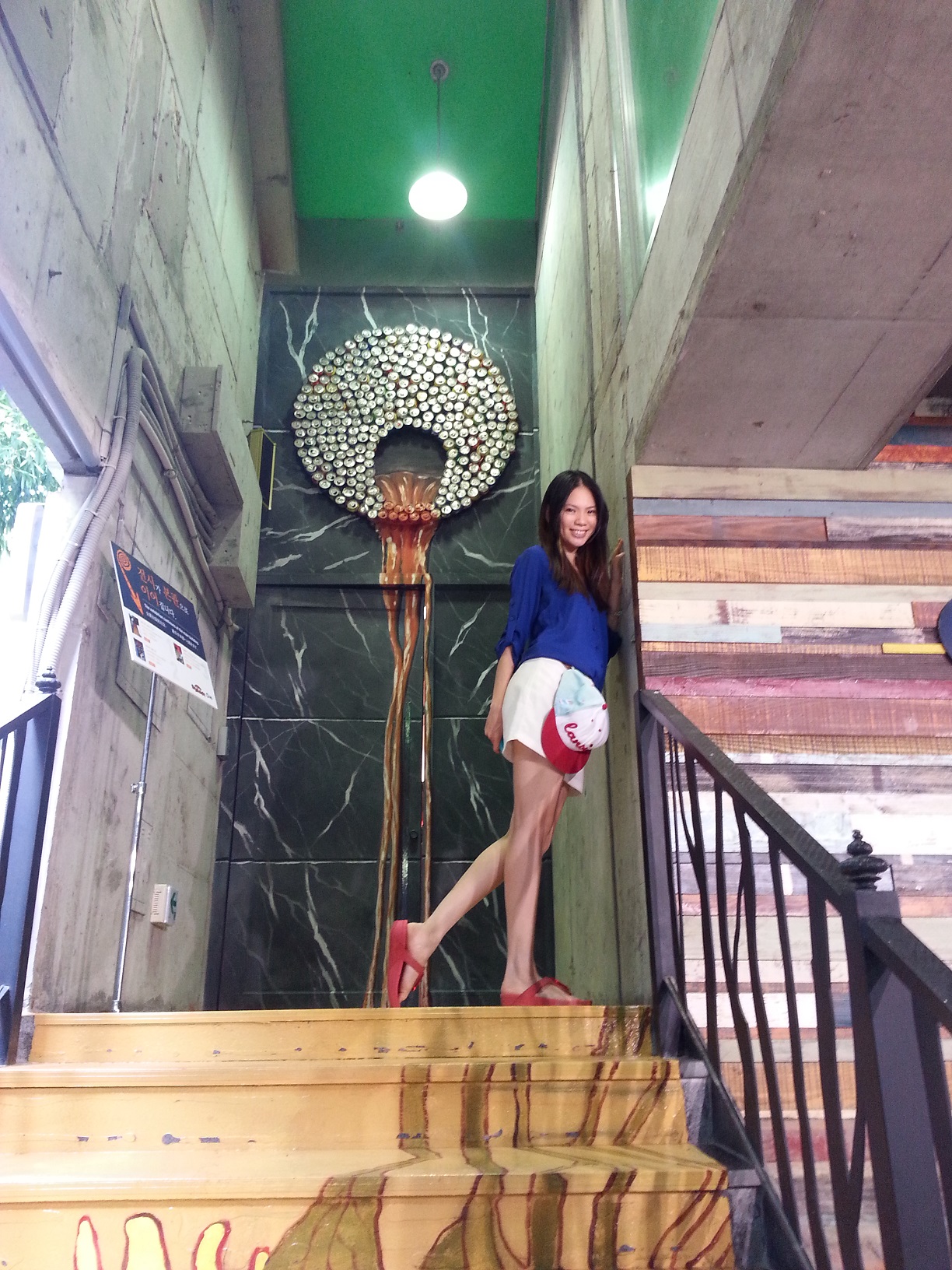 My favourite street in Seoul is Insadong. Why I love it? What's not to love with the mixture of coffee shops, traditional food, desserts, shopping AND culture!!! Re-visited that street 3 times over one week.
It's known to Koreans for art and culture because there are different art pieces for sale, quirky stuff, and also museums!
The first thing I went for of course is the famous ICE CREAM shop. This twisted ice cream cone is actually fairly new in Korea and has tons of people lining up for it..
First, grab a cone, then bring your desired cone to a guy where he will insert the ice cream
And voila – Twisted ice cream cone for consumption. However, if you are not a fan of corn, the taste of corn is pretty strong!
Next up, another ice cream cone..this time the cone is normal but the ice cream is different… very chewy and the guy actually performs stunts for you! I was tricked..lol
Then, onto my favourite shopping mall in Insadong right opposite a tea shop in a brown building. It's four stories and you walk in a circular motion so you get to see every shop which has extremely cute trinkets..Even the walkway is cute, fully decorated like a forest!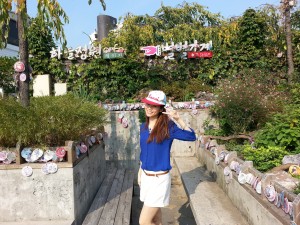 When you get to the top most floor, it opens up to many different cafe's but the one that drew our attention is the "love" cafe.. It's not what you are thinking..
Cute cafe where couples go to get a drink, and to entertain themselves, buy a love note, write on it, you will even be given pens…AND then hang it up..If your love lasts, you can head back there in a few years to find your love note!!
In the same mall, you have to check out the ALIVE MUSEUM!
You will be brought on not just an art journey..but a fun one as well..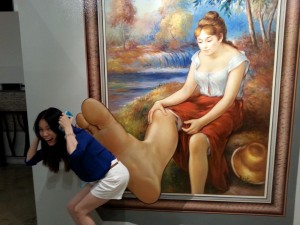 Art pieces coming to live.and it's all painted on a wall
Like this..you think the hand is sticking out but it's really not
Not bricks but a painting! What sorcery?
When you exit, you would be greeted by a painted staircase and door too!
It's the creativity of these paintings that made us enjoy it… and to think that it looks 3-D especially in pictures! Amazing right?
If you walk the entire stretch of Insadong and have not tried all the ice cream, and coffee shops..grab some street food to munch! They are all tasty!!!
If you hear from friends that Insadong is touristy… it probably is but locals also head there for the art and culture..I was actually first brought there by a Korean friend… So, please do drop by and you will probably enjoy yourself walking the nooks and crannies of each side street 🙂
Have Fun!
Mei Sze