Who's a Korean drama fan here????
ME!!!! I started watching Korean drama when I was living in…..
Good Ol Hawaii, my second home!!! A place with the sun, sand, and sea, and also because I was living alone and studying there, I would spend my "free time" watching K-drama to relax and unwind from a long day at school
Of course, will head out with my bestie, Kendra on weekends, but weekdays are spent watching my favourite dramas… I was hooked!And, that also spurred my love for Korea as I had many Korean friends while living in Hawaii too..
So, boy was I happy when I was asked to emcee the opening ceremony of the Korean Film Festival 2015 in Malaysia a few days ago!!!! This is the 2nd one since 2009, and they were screening 10 different movies in various genre such as drama, anime and even comedy.
I knew I wanted to look "korean" for the event, and with the help of Shu Uemura's make up artiste, I manage to achieve that flawless skin, minimal make-up look with their latest collection – Vision of Beauty
My #ootn for the night, even the dress is from Korea!
The thing about Korean movies and dramas is that once you have watched it, you will be drawn to learn more about Korean culture and to visit the country like I did.
I would fly Korean airlines everytime I go back to the States, just so I can transit in Korea and chill with my friends there! That's how much these K-dramas and movies have influences my travel plans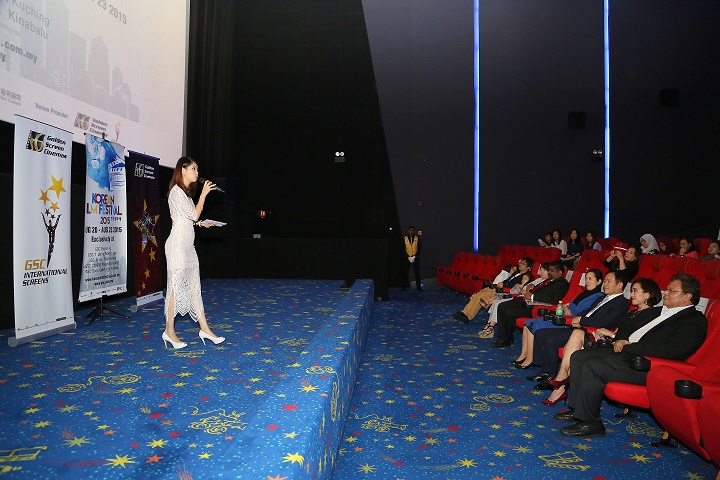 The event was held in GSC cinema Pavilion as GSC was the cinema partner to showcase these movies from August 20-23rd. The locations were GSC Pavilion KL, GSC 1 Utama, GSC Gurney Plaza Penang, GSC CityONE MegaMall Kuching and GSC Suria Sabah Kota Kinabalu and tickets were FREE!!!! What a nice treat..
The first movie they were screening specifically for the opening ceremony was Marriage Blue!! I was stoked because I loved this movie and had watched it on the plane. I love the moving scenes, especially at Jeju Island. It basically depicts 4 couples who ere about to tie the knot in a week and how some of them were having cold feet on whether they were right for each other…
When you watch it, you would definitely want to be at the places the movie was shot. So, it's really true when they say movies are a depiction of art, and culture too!
Delighted to meet the director of Marriage Blue, Ms Hong Ji Young, and her husband, the director of another movie entitled All About my wife. They came as a family for the event and it's their first time in Malaysia!!! Welcome and Anyong haseyo!!
The VIP's officiating the ceremony which includes the ambassador of the Republic of Korean in Malaysia, His Excellency, Cho Byung-Jae, and his wife, the CEO of GSC Malaysia, Ms. Koh Mei Lee, the director couple, Underscretary of International division for the Ministry of Communications and Multimedia, Mr. Letchumanam, and the Director of Finas.
I was still all smiles after hosting the event because it's so coincidental that the movie I happened to watch on the plane was screening at the opening AND the director was there!!
All in all, kudos to the embassy of the Republic of Korea for bring the Korean Film Festival back to Malaysia for all Korean movie fans out there 🙂
You guys can find out more at www.koreanfilmfestival.com.my
Love,
Mei Sze