My first post for 2015 will NOT be about my travels just yet but rather to reveal to all who have been asking what happened to me last year and what a "New Life" means to me.
First off, welcome to my new blog layout!!! Happy New Year to all of you.. May you have a great 2015!
Last year was a year of bombshells and tears for not just me, but the people around me especially my family and Ben(I should give him a nickname soon!). What you should know about me is that I am a workaholic, go-getter, and over-achiever. I would say it's not too good when you are stressing your body out too much! Why you ask? It's because I spent a good 4-5 months reeling from the effects of it…
What happened in 2014?
Many of you asked me after this video came out "What do you mean Thank GOD that you are alive?"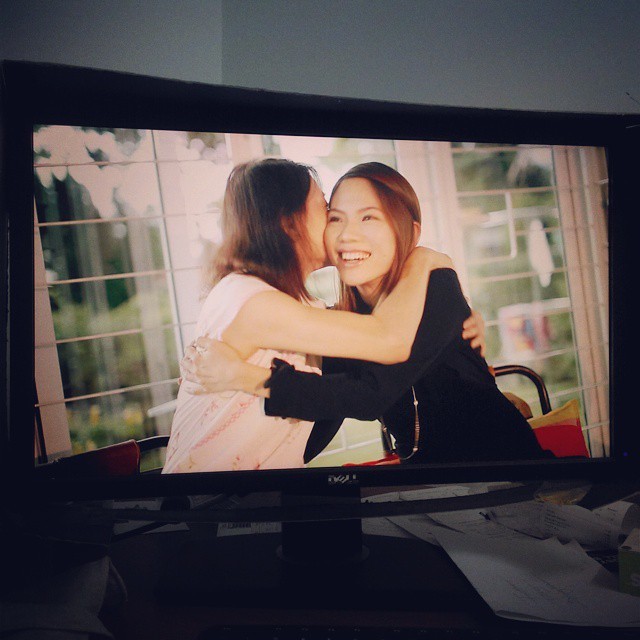 I thought really hard on whether I should share it but many who knew kept asking me to share my experience with the youth out there who may be battling it as well.
The truth was, I was diagnosed with colon cancer on June 24th 2014. Many of you probably saw me posting a picture on my Facebook Page and Instagram on June 20th that I was in the hospital. While I posted it up, what was meant to be a routine colonoscopy which I was discouraged from by the doctor as I was "Too young" to undergo it turned into a nightmare. There were four people scheduled to undergo the procedure that morning but only I was left on the bed till 5pm waiting for the doctor to come and see me.
I admired my positivity telling the nurse "Just ask the doctor to call me.. I understand if it's standard operating procedure he needs to tell me personally but I am fine hearing the results on the phone" as I was in a rush to beat the jam assuming it was nothing anyway. The minute the Doctor walked in looking at the folder and saying these words to me didn't register for a few minutes..
" Mei Sze, you are so young but we detected a tumour 1/3 the size of your colon"
The rest of what he said didn't matter until I heard the word biopsy… which immediately equates it to the possibility of the BIG C = Cancer! It was an arduous wait for the biopsy results with tears on a daily basis, and soothing the people around me, while trying to lead a normal life. And the results came out on a Tuesday evening.. I had COLON CANCER
Can you imagine what was going through my mind when I found out? Upon confirmation, I  vowed to myself that I won't cry anymore but to SOLVE THE PROBLEM!
Upon knowing on Tuesday, I was scheduled to see my surgeon on Wednesday, and even seek a second opinion during that week of going in and out of the hospital for scans,etc.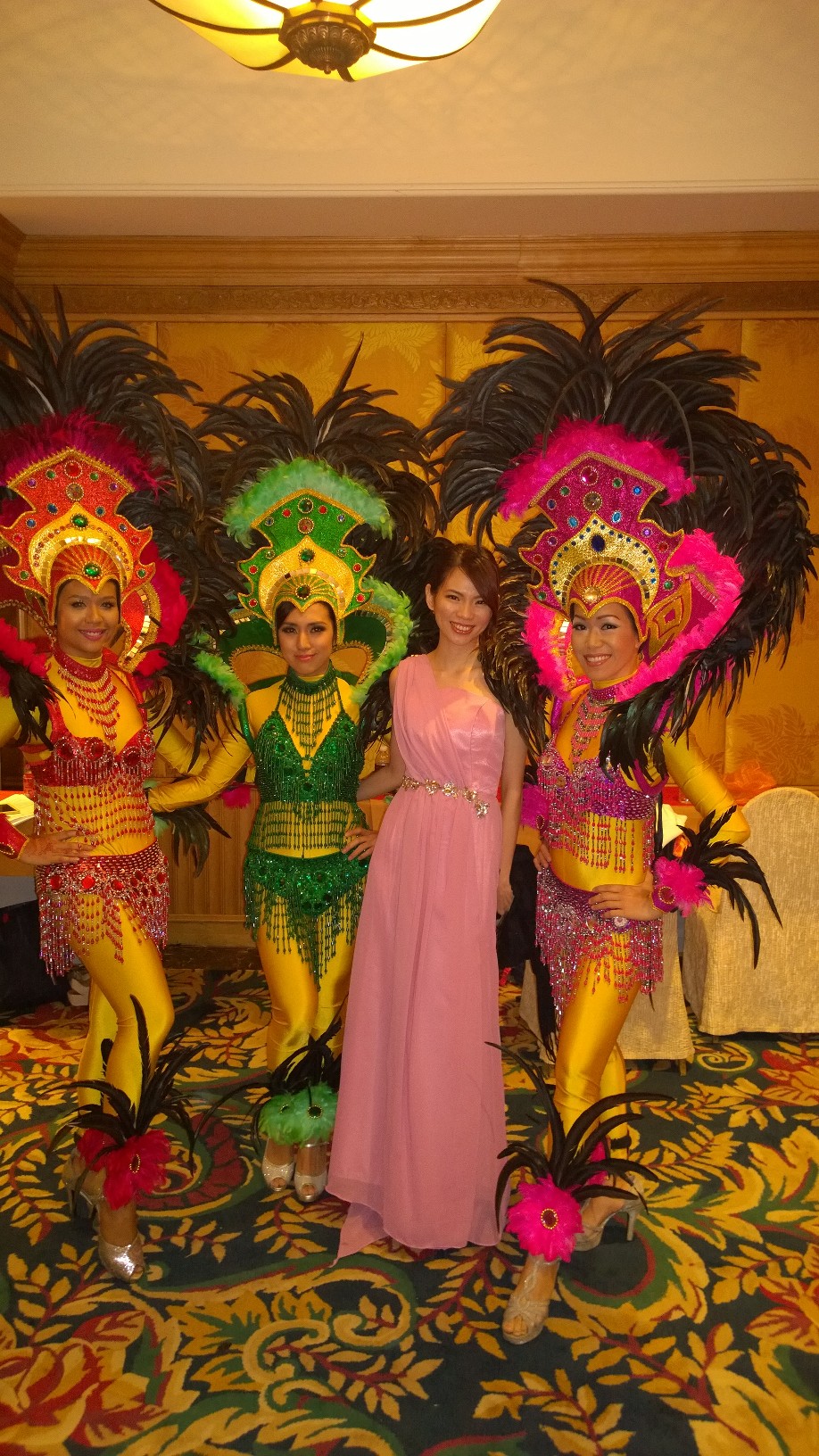 I don't know how I did it, but amidst the anxiety and trying to put everything in order, I still emceed these two events with a smile, especially IBM Tech Conference which was huge!
The only thing to do is to cut of the disease part of the colon first which needed to be done ASAP! I checked in to the hospital on the 27th of June, and my operation was on the 28th of June. What I wasn't prepared for was the complications because the tumour was so near my rectum…
Didn't have time to be anxious, or worries, but to look forward to the operation the next day when I checked in to the hospital for my first surgery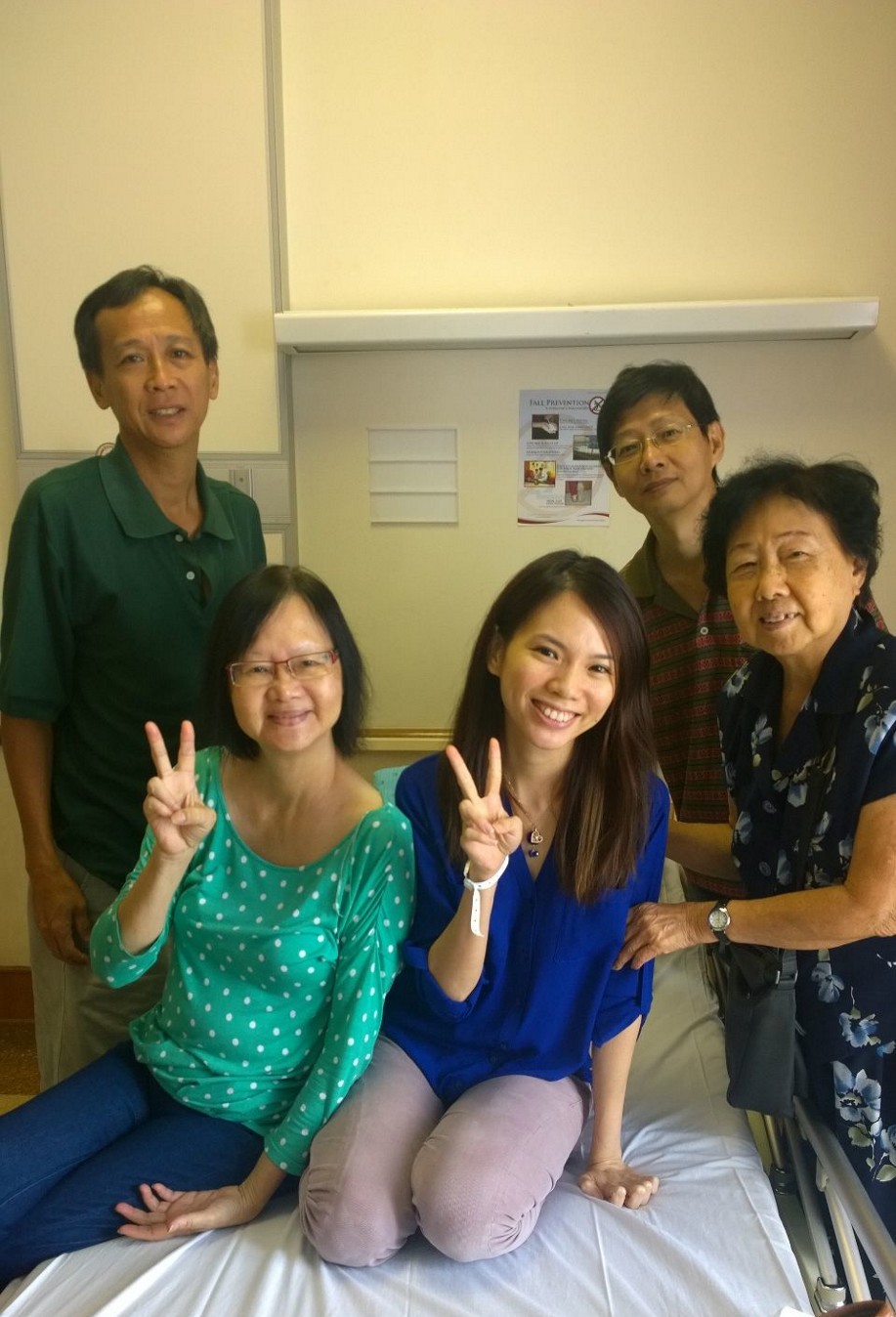 My family and friends who gave me encouragement before the huge surgery.. Thank you so much!!!!
So what were the complications?
Due to low blood pressure and the surgery being too long, four and a half hours, the surgeon had to pull my intestines out of my body and put it in a bag. It's called a colostomy bag. It was basically living with the bag for 1.5 months or die….
36 hours after surgery and still in and out of consciousness from morphine.. All my friends and family who visited with flowers and balloons really made me wanted to get up quicker but I could not move yet….
My immune system was so low that all the flowers in my room made me allergic to the pollen , and each and every one had to be put outside!!! Plus, I was having fever and on and off for a couple of days…
Finally awake and sitting up a little higher but still unable to eat or drink, basically on drips for 4 days!!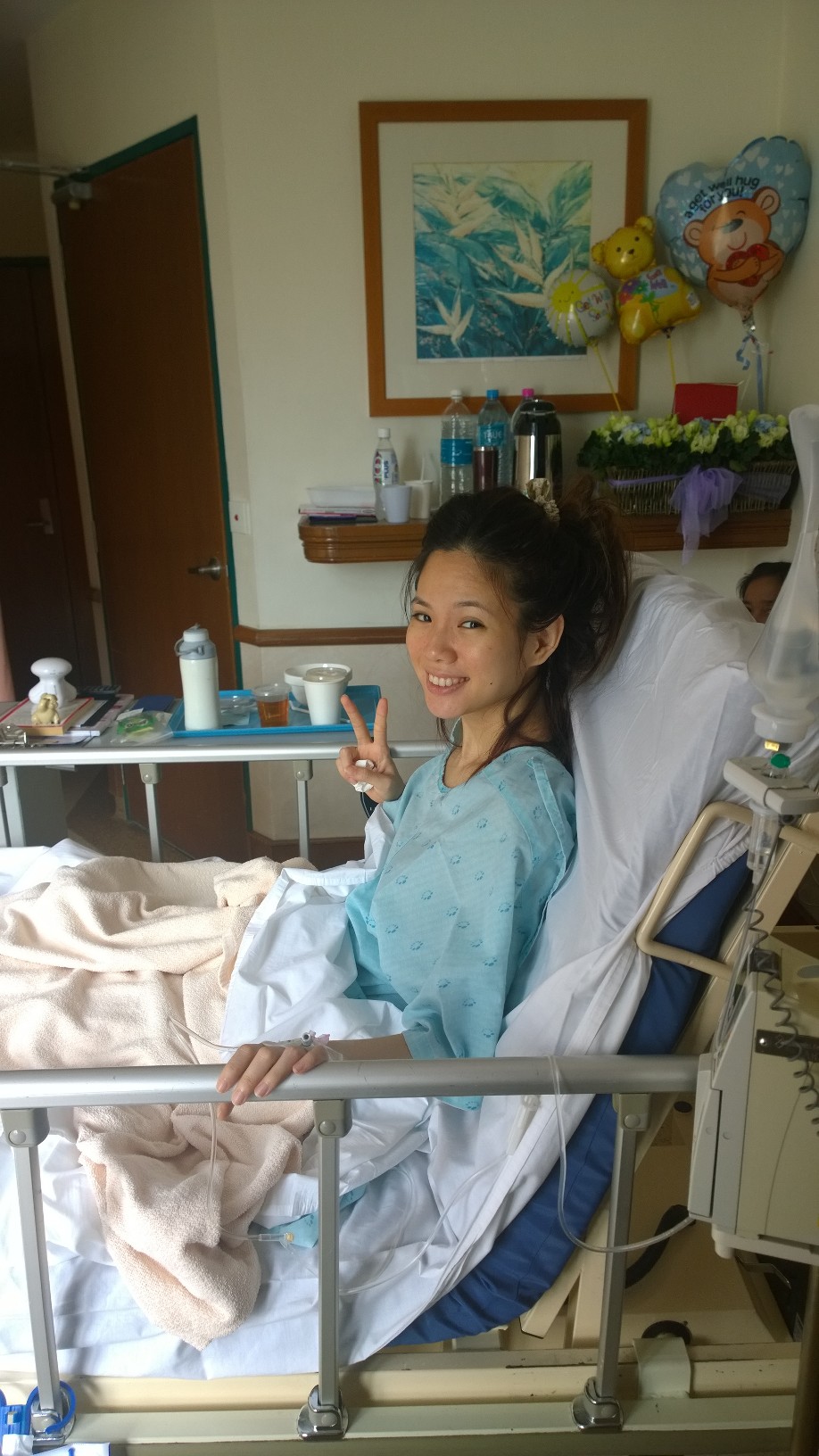 Yay! Finally set up straight on the 6th day! And able to drink water!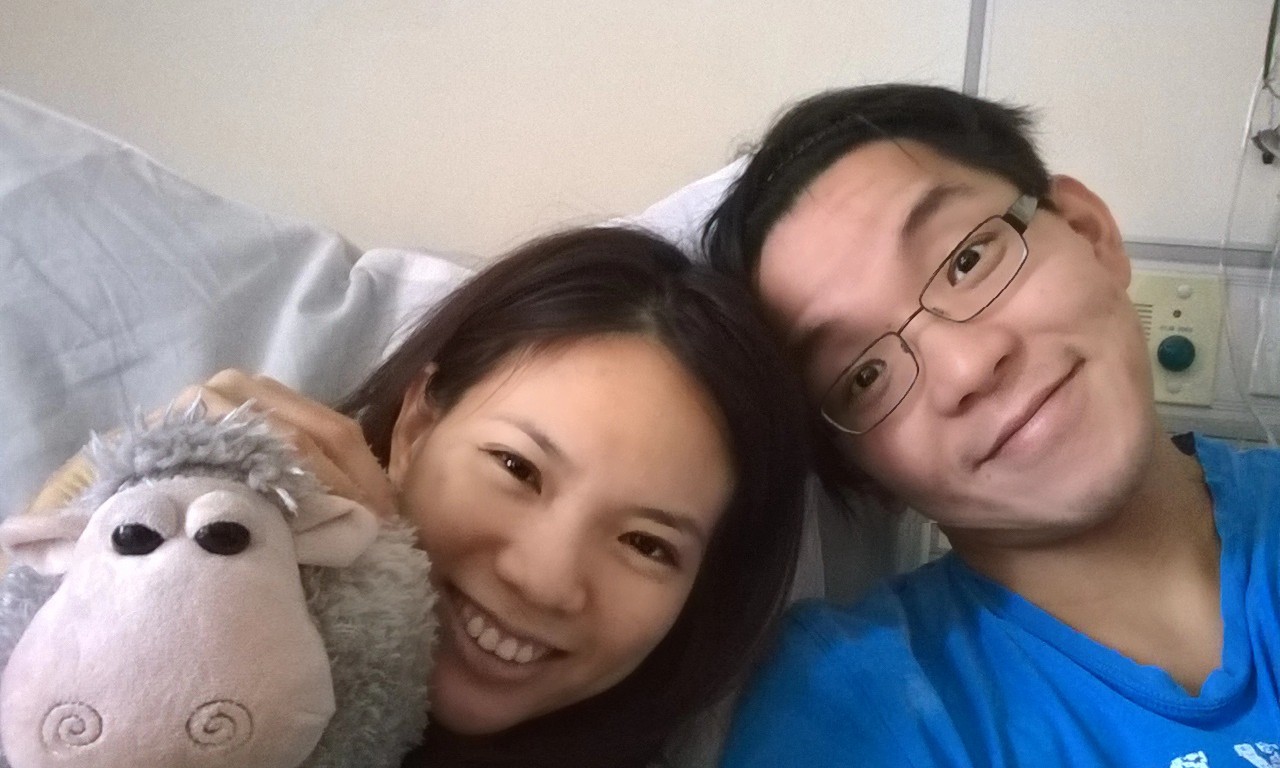 All smiles as sitting up was an achievement for me already as the stomach area was not allowed to be moved for days
2nd achievement, got to walk a little bit to the chair opposite my bed!!
Doctor allowed me to go to the Starbucks downstairs on a wheelchair
Checked out on the 9th day:)
This experience really made me appreciate the little things we take for granted such as walking, sitting and most of all EATING as I was not allowed to eat for days after both surgeries, and was only eating soft food for 2.5 months. Of course I lost alot of weight, a total of 6 kg for the already thin me during that period.
Of all that I have been through, I would have to say living with a colostomy bag for 1.5 month was the most difficult physically, mentally and emotionally as it tests you at all levels but I thank GOD I am one of the lucky ones that gets to rejoin it after.
I will share more in my next few posts on my experiences with health insurance and living with a colostomy bag, but all I can say is…. Thank you GOD for saving me before it was too late!
That was my 2014, and I know 2015 will be an amazing year filled with happiness, laughter, more healing, opportunities, and appreciation:)
This is ME now!! Don't worry.. stay tune to my Japan Updates!!
Love,
Mei Sze
P.S. Feel free to share your thoughts and questions, I will answer them.