Finally, I've managed to squeeze in time to write my second and final post for my  wedding  because we know how wedding planning is a pain right?!
Putting this together put a smile on my face because it was a truly memorable day, because of the fun, and it turned out how I envisioned it. For a fuss free gal like me, I wanted many of my personal touches during my wedding day which resulted in me having a theme and guess what it was?!?
*Dramatic pause*
First of all, HEALTHY was the theme, and BLUE AND WHITE for the dress code… anyway, so here were some of the highlights from that day..
Morning games – Funny!!! and everyone was super sporting…. Let me tell you… I've heard some weddings… the groom and his 'heng tais' actually walk away and didn't want to play anymore.. can you believe that?!? But for mine, everyone played and it was definitely a good laugh!
The handsome groom and groomsmen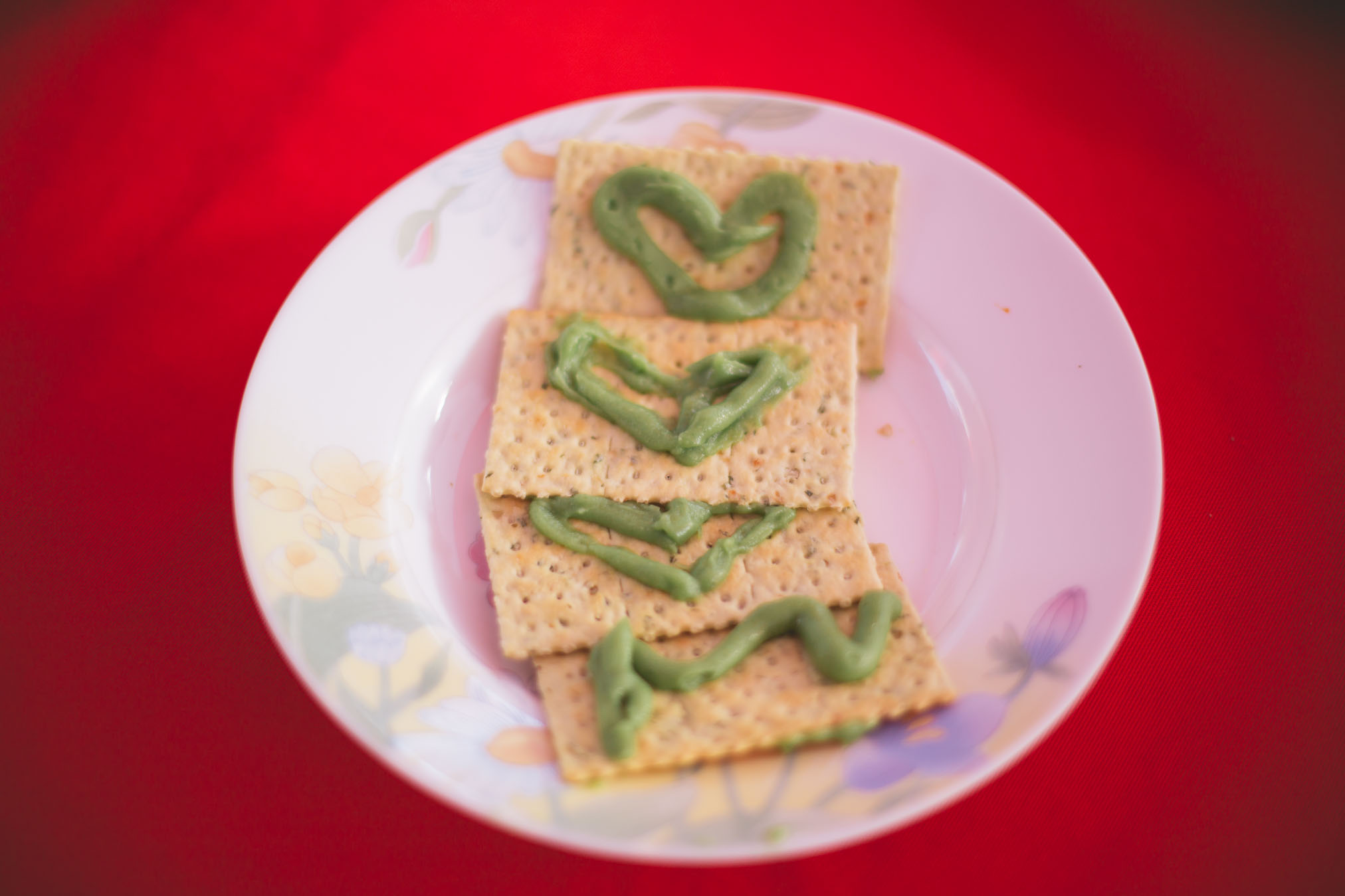 Some heart shaped wasabi crackers
I HAD to show this picture… so sweet!!!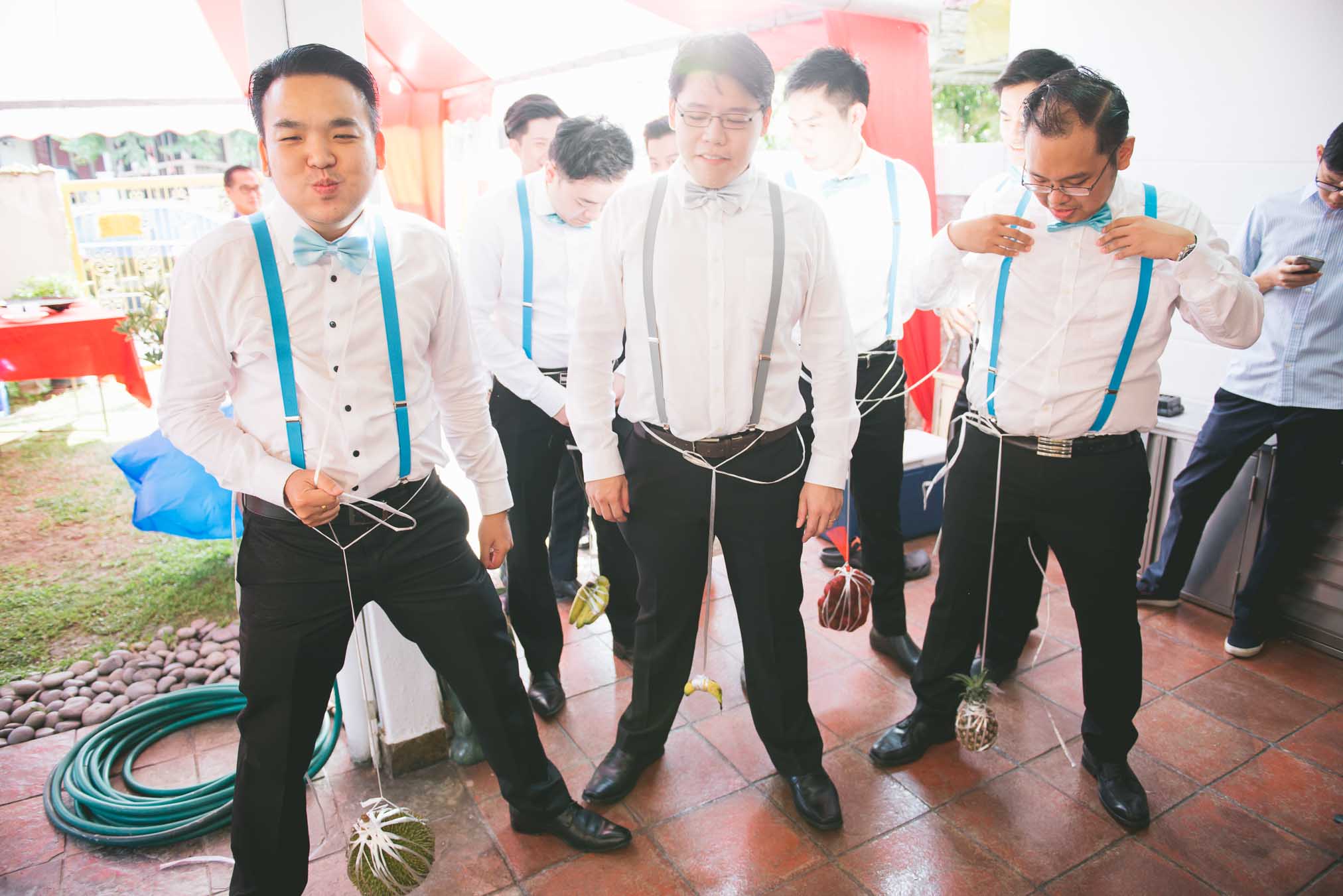 This was the funniest game… tying the fruit on the guy and asking them to swing it across a line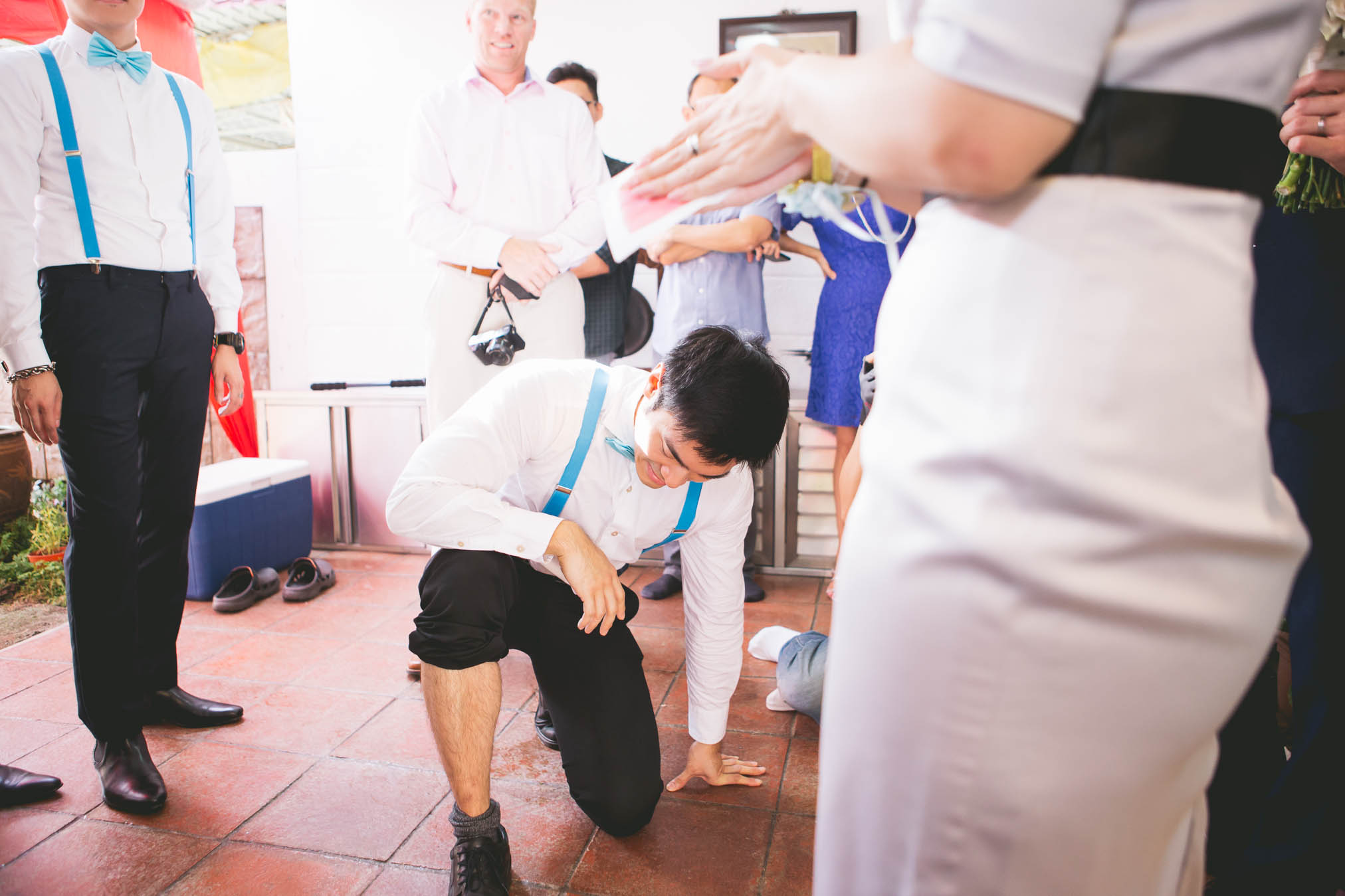 Waxing… also funny!!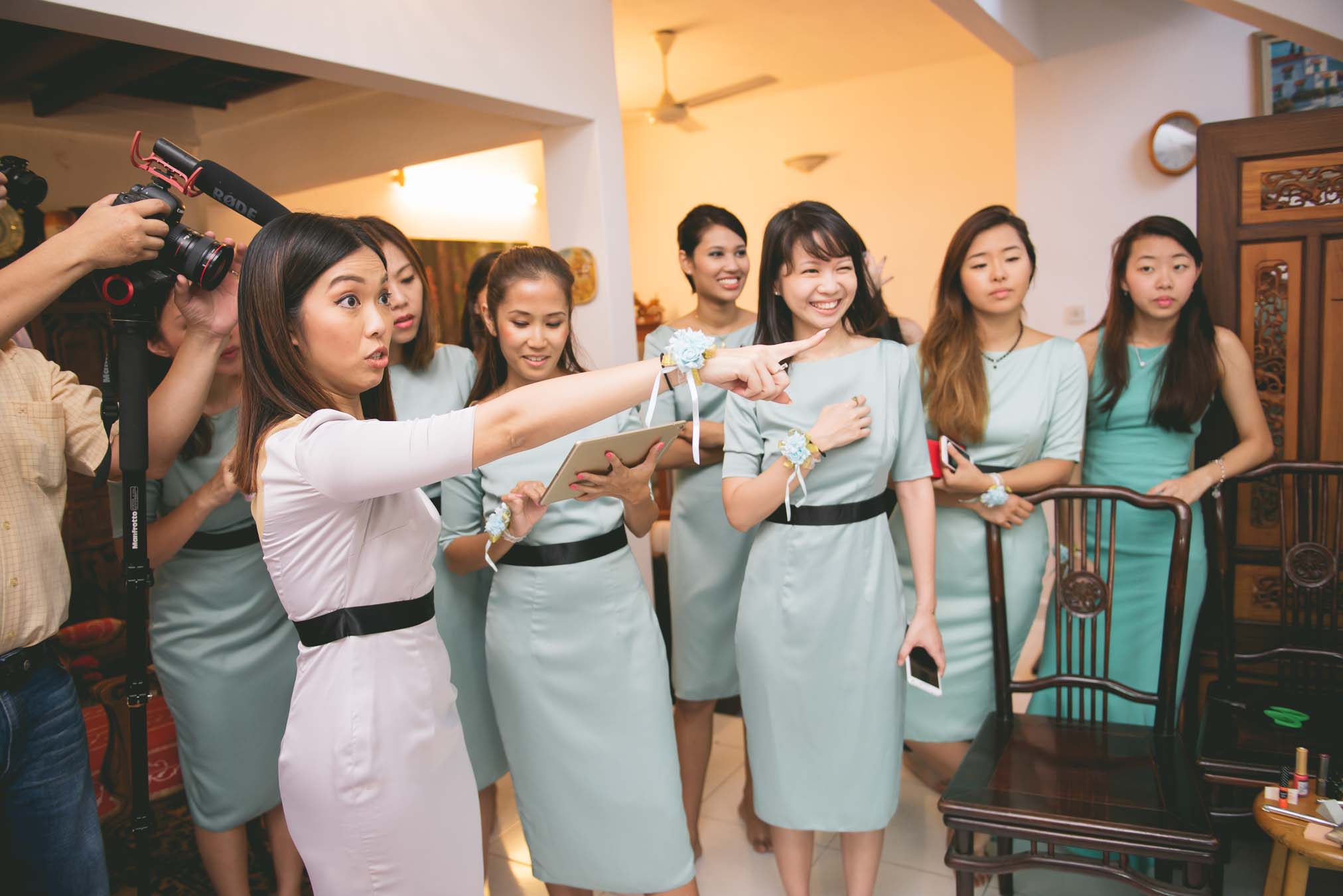 My bridesmaids… having fun and doing a great job!!!
HAVE TO STRESS HOW PRETTY they all were!
2. Personalized Decor thanks to my wedding planner MOMENTS  who did a great job with the entire day's planning and DOUBLETREE HILTON for the awesome venue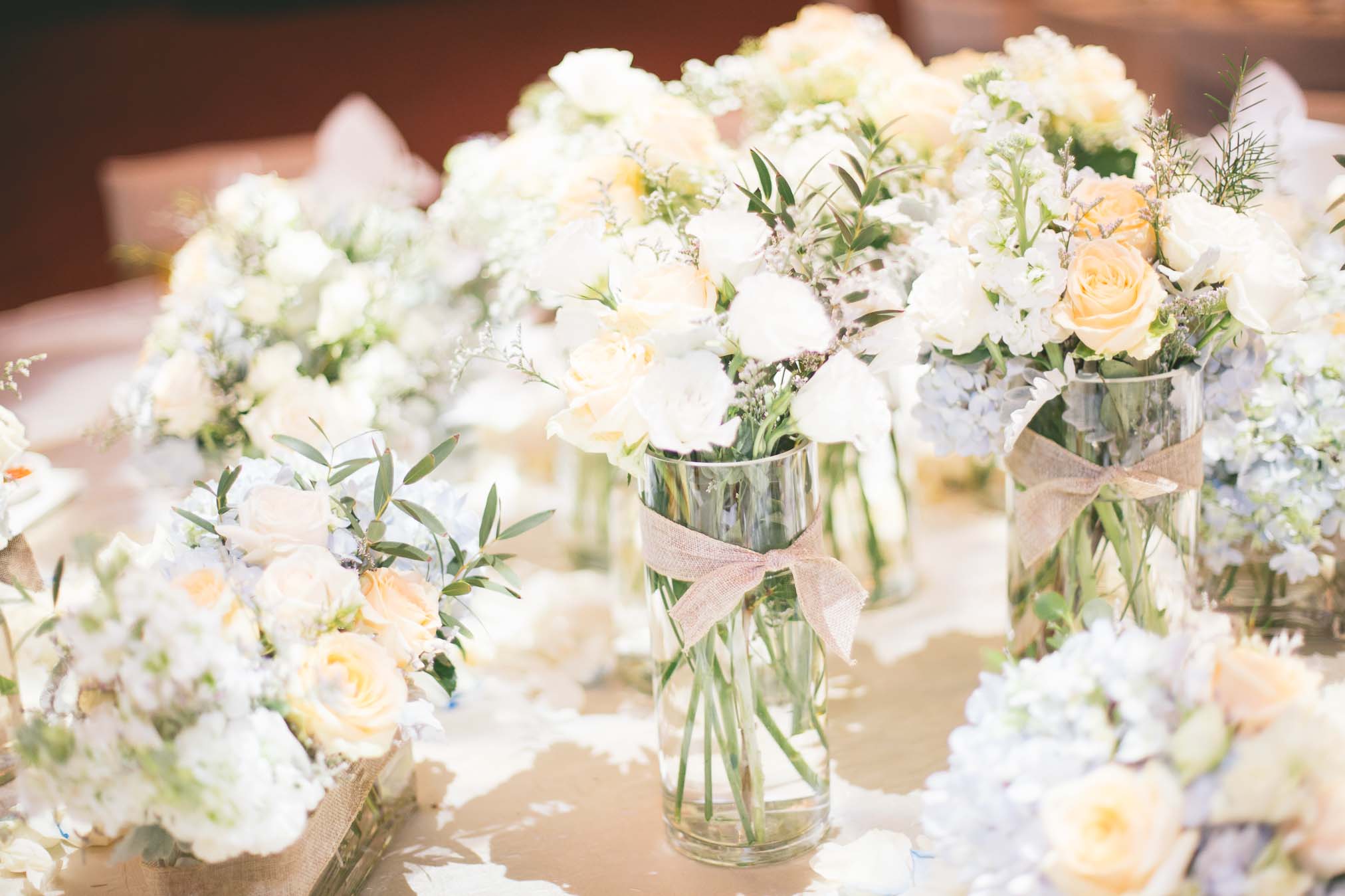 Baby blue and white sets the theme alright
Simple but elegant guest table setting
The main table's setting and backdrop…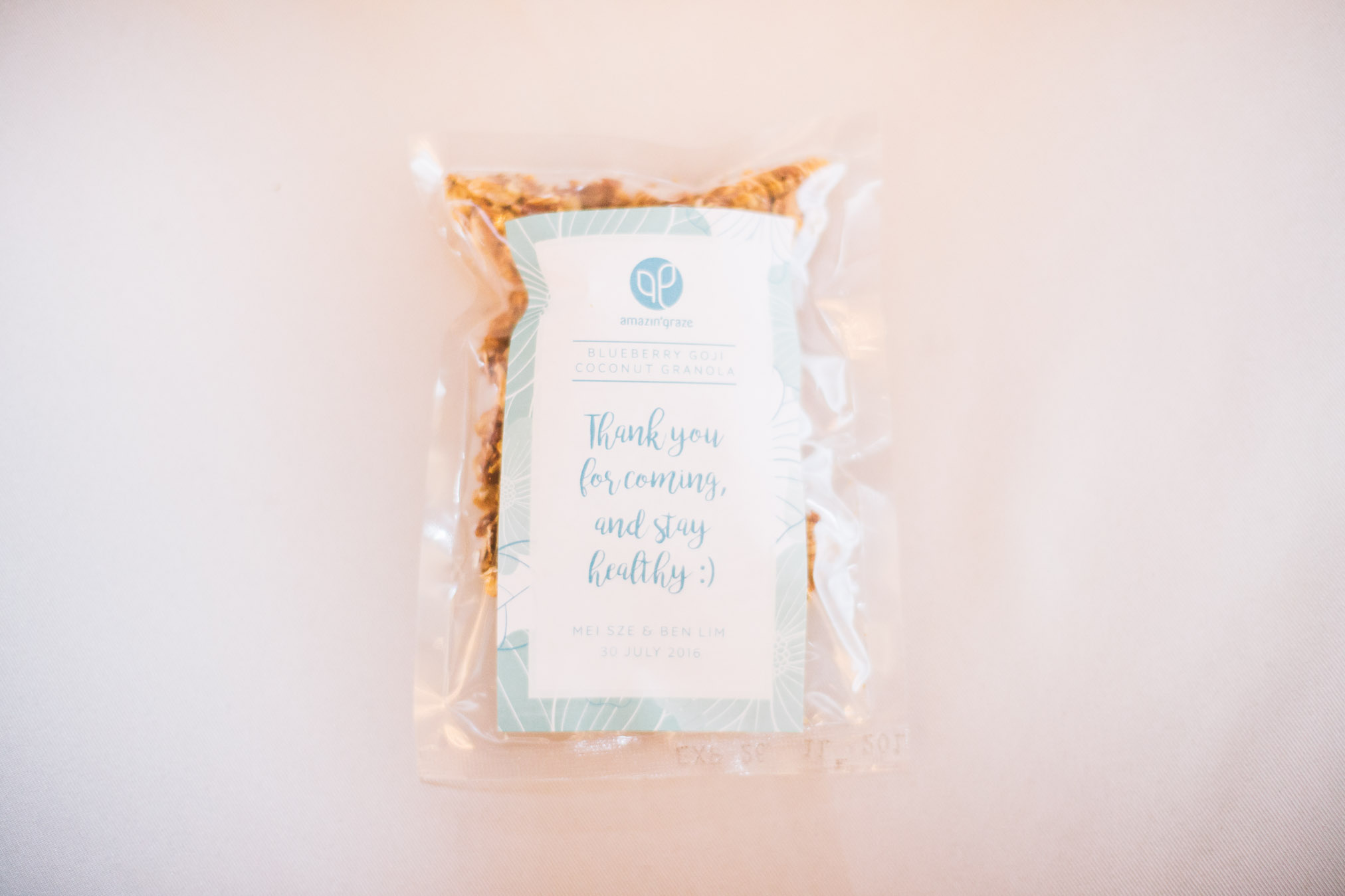 Like I mentioned, it was a healthy themed wedding… so even my doorgifts were healthy… granola!
A must have photo booth for pictures by Fliplet
Some #throwback from the ROM ceremony
3. A good emcee will set the tone for the night amd of course ambience of the hall which was on point
Handpicked my emcee which I've worked with before.. an important point for me was being able to converse in Chinese and English as I had relatives from all over… Cody did a great job!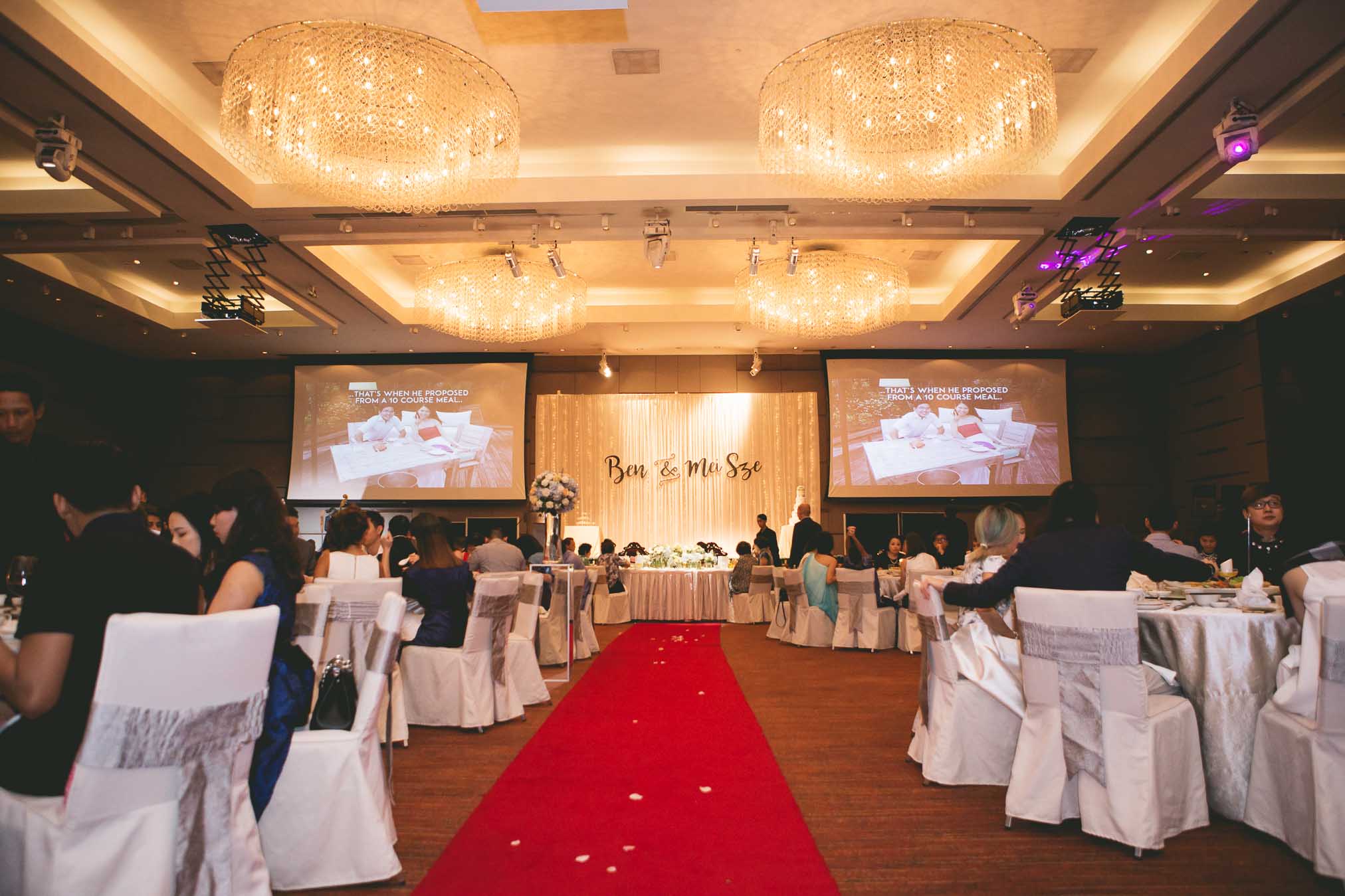 Hall was well lit, and comfortable.. Personal touches included our travel pictures projected instead of wedding pictures.. I didn't take any because I felt that it was redundant to have wedding pictures which we may misplace, and I basically didn't see a point in it.. Our wedding focused on our journey and story, so we basically had 3 main videos… from how we started(like a skit) to our wedding day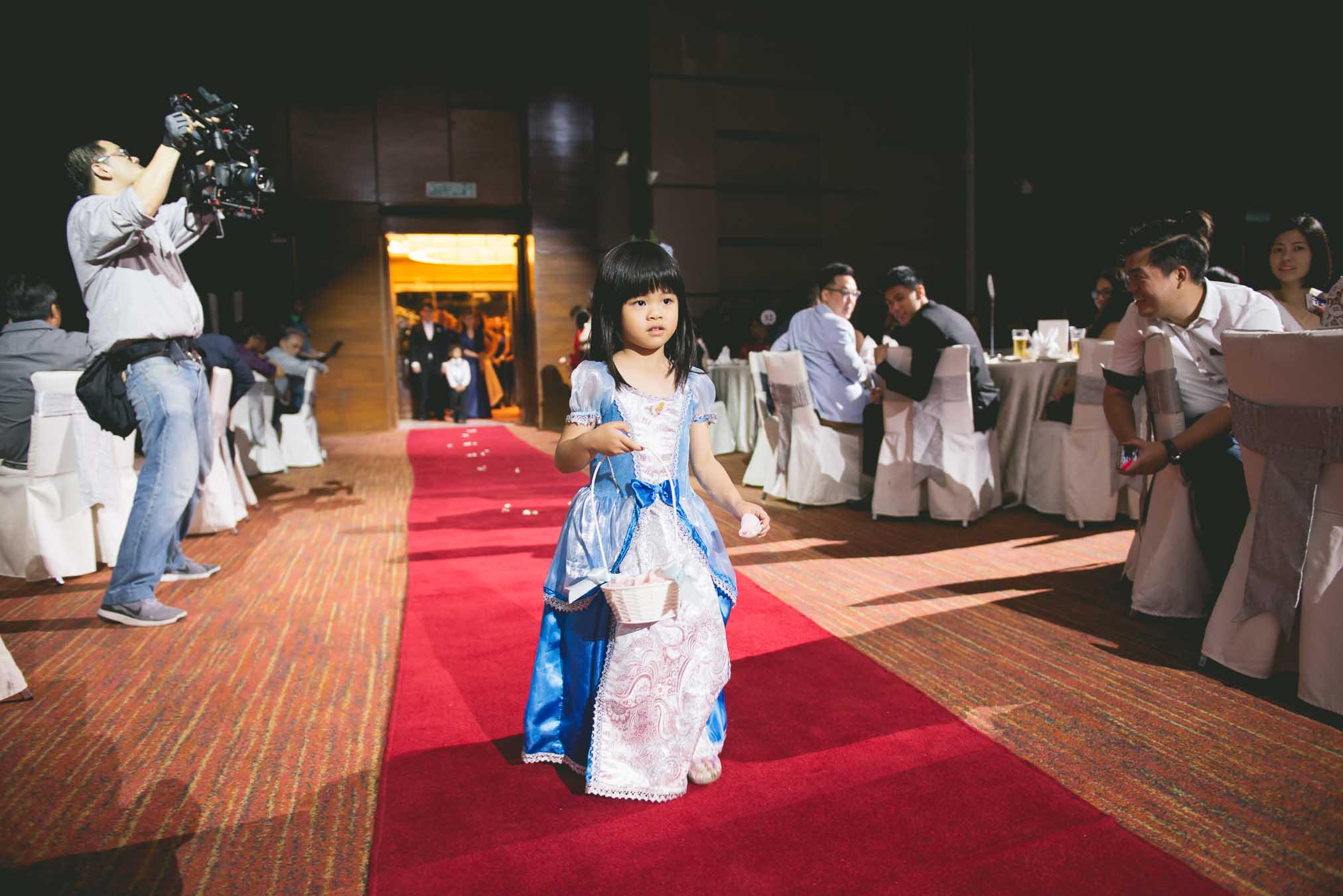 My beautiful niece walking in
BUT instead of walking in.. we sang our walk-in song from backstage and surprised people by walking in from the front..LOL! Poor Ben had to sing too…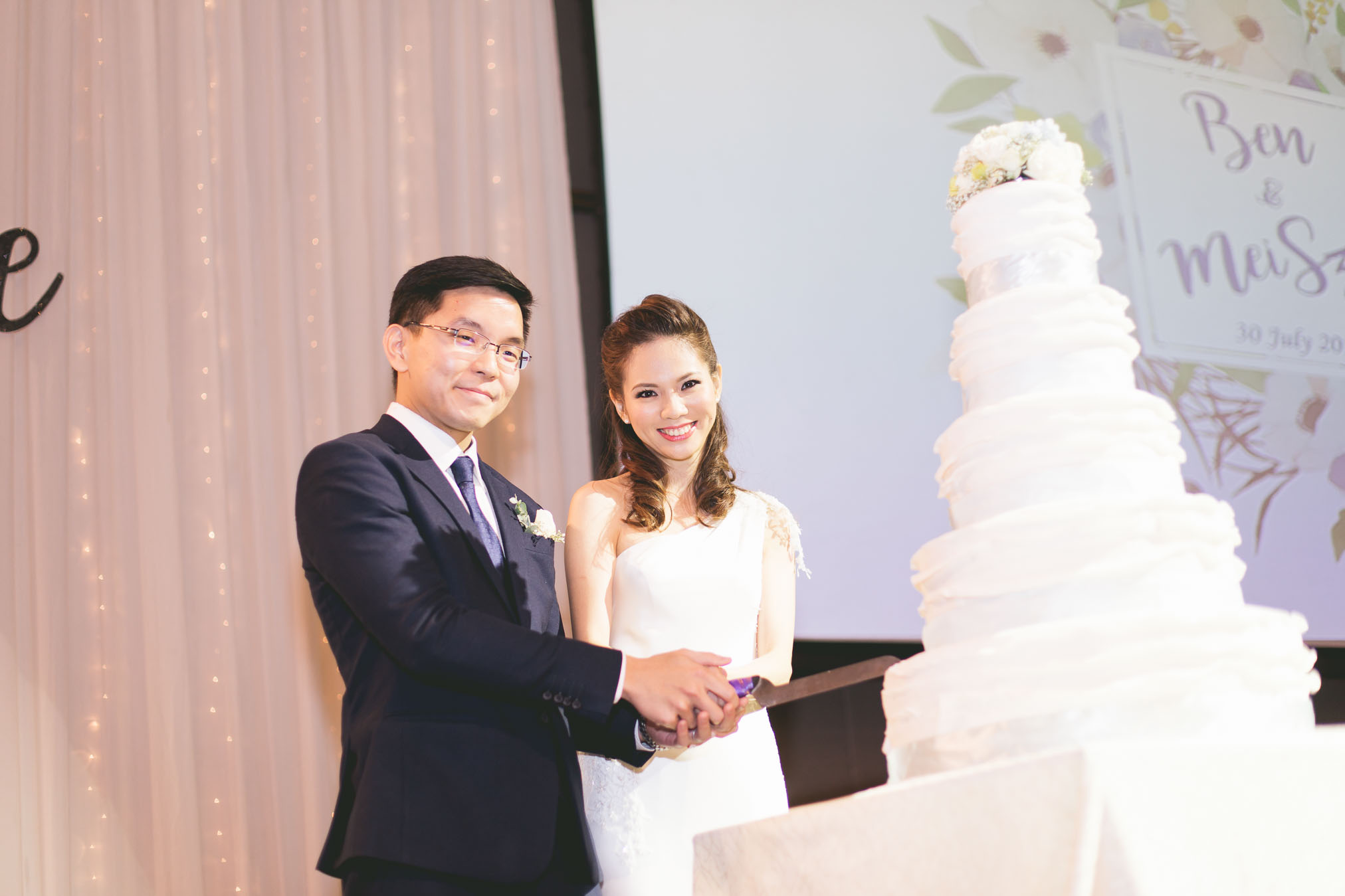 Cake-cutting ceremony before the meal
4. Good food and personalized programme
This 3 piece band which I also sourced through an event I emceed… Been eyeing them for 2 years… really did a great job playing jazzy music the whole night when there was no programme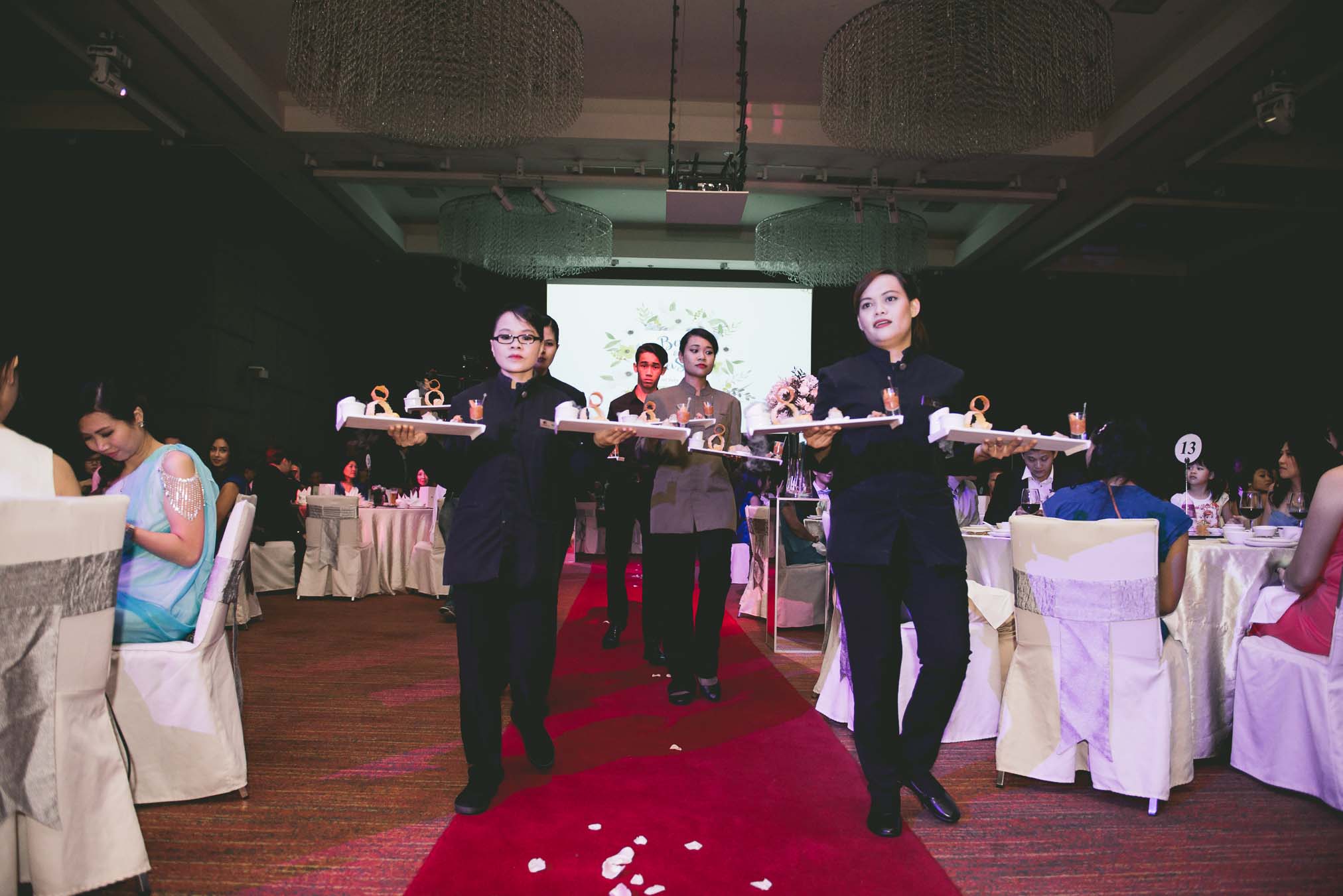 Doubletree Hilton, kudos to you on the food.. Thank you Chef David.. everything came in warm, and reviews were good on the taste of the food… service was also good!
We had one part where we got our maid of honour and best man to answer questions about us.. pretty funny stuff! BUt you guys better check with yours first on their comfort level before doing it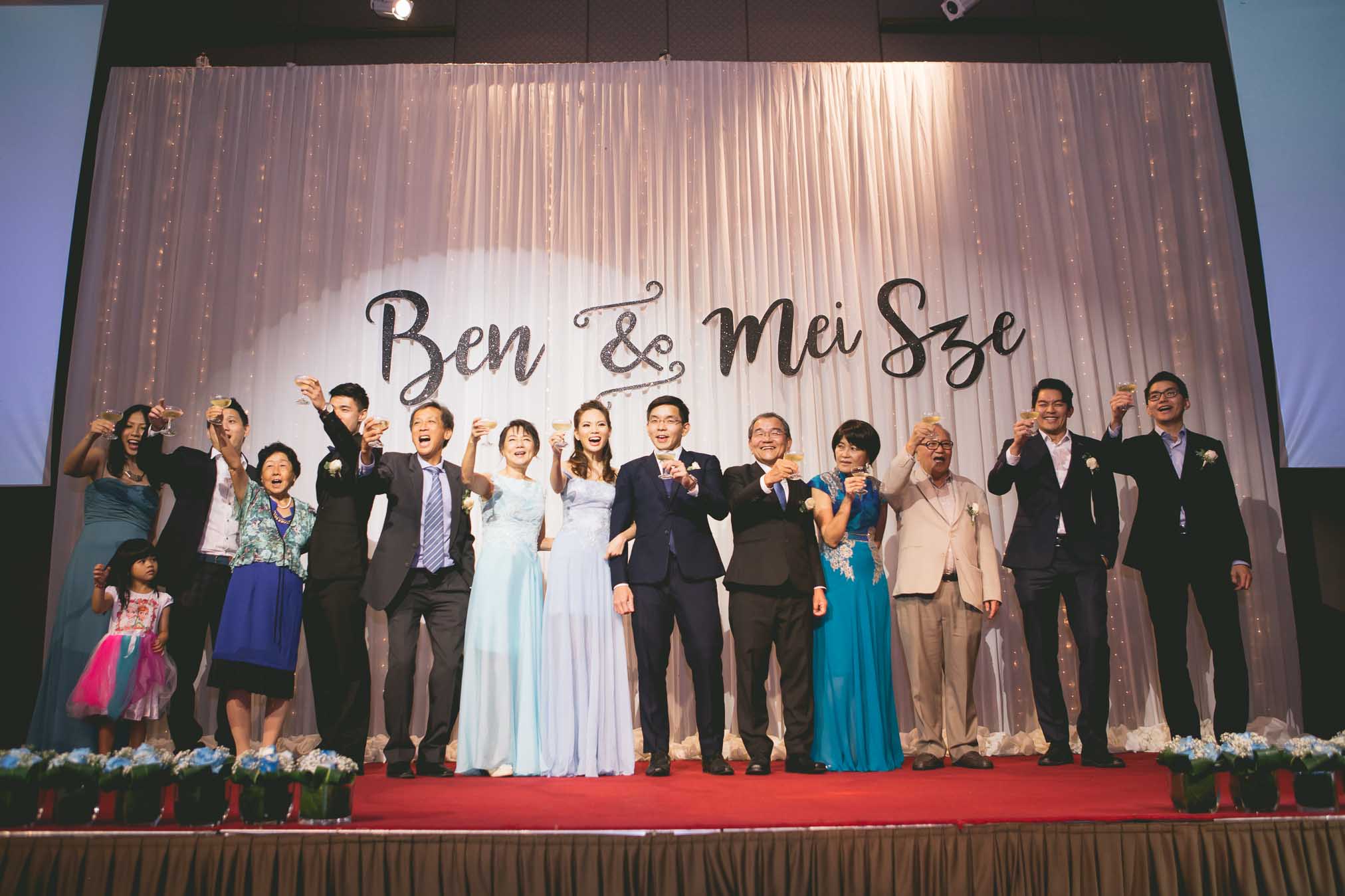 Lovely yam seng ceremony
Cody basically asked our parents to kiss for one of the yam seng's to prolong it…
5. Another highlight for me personally was that my guests came in blue and white following the colour theme.. THANK YOU GUYS  for making the effort!!!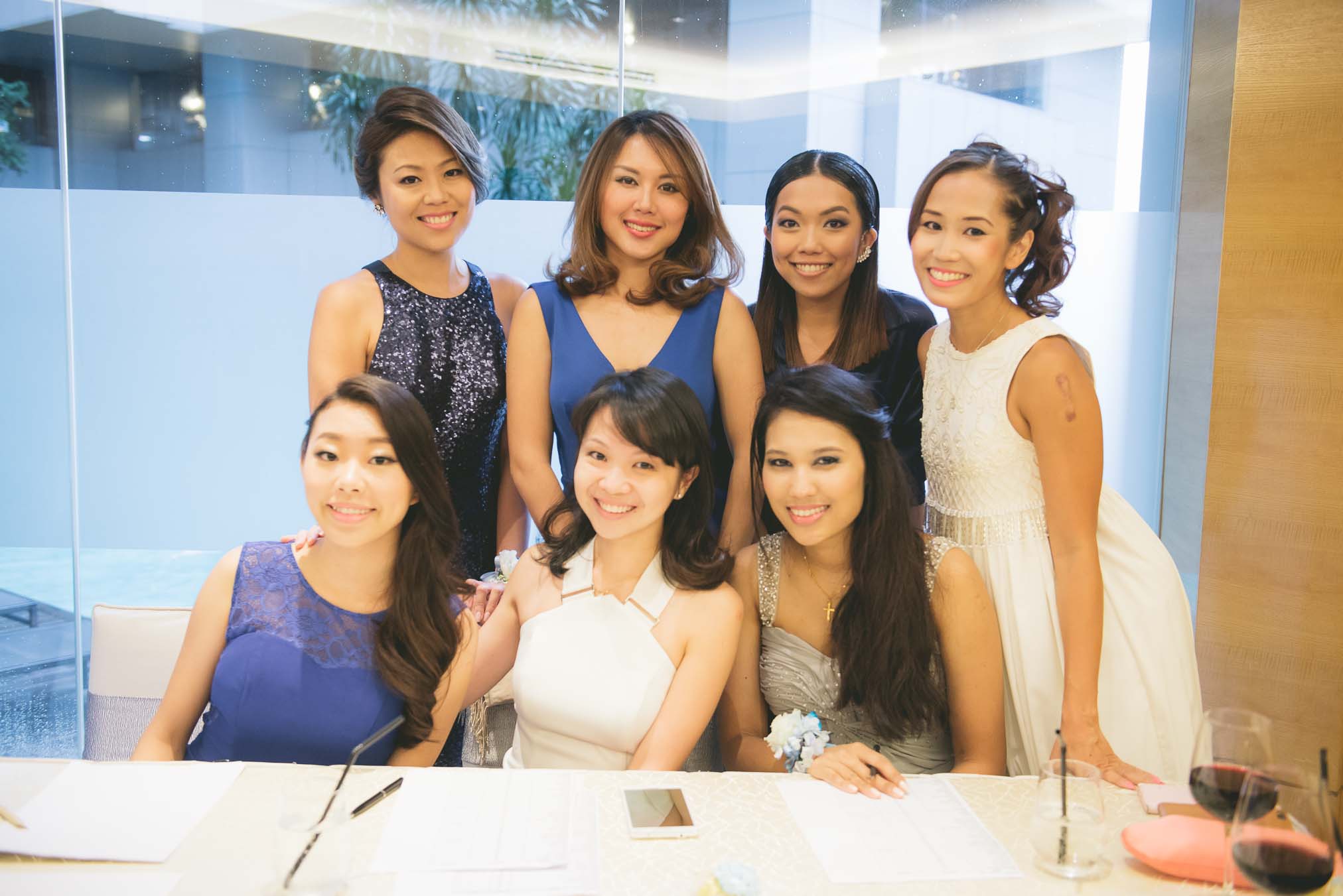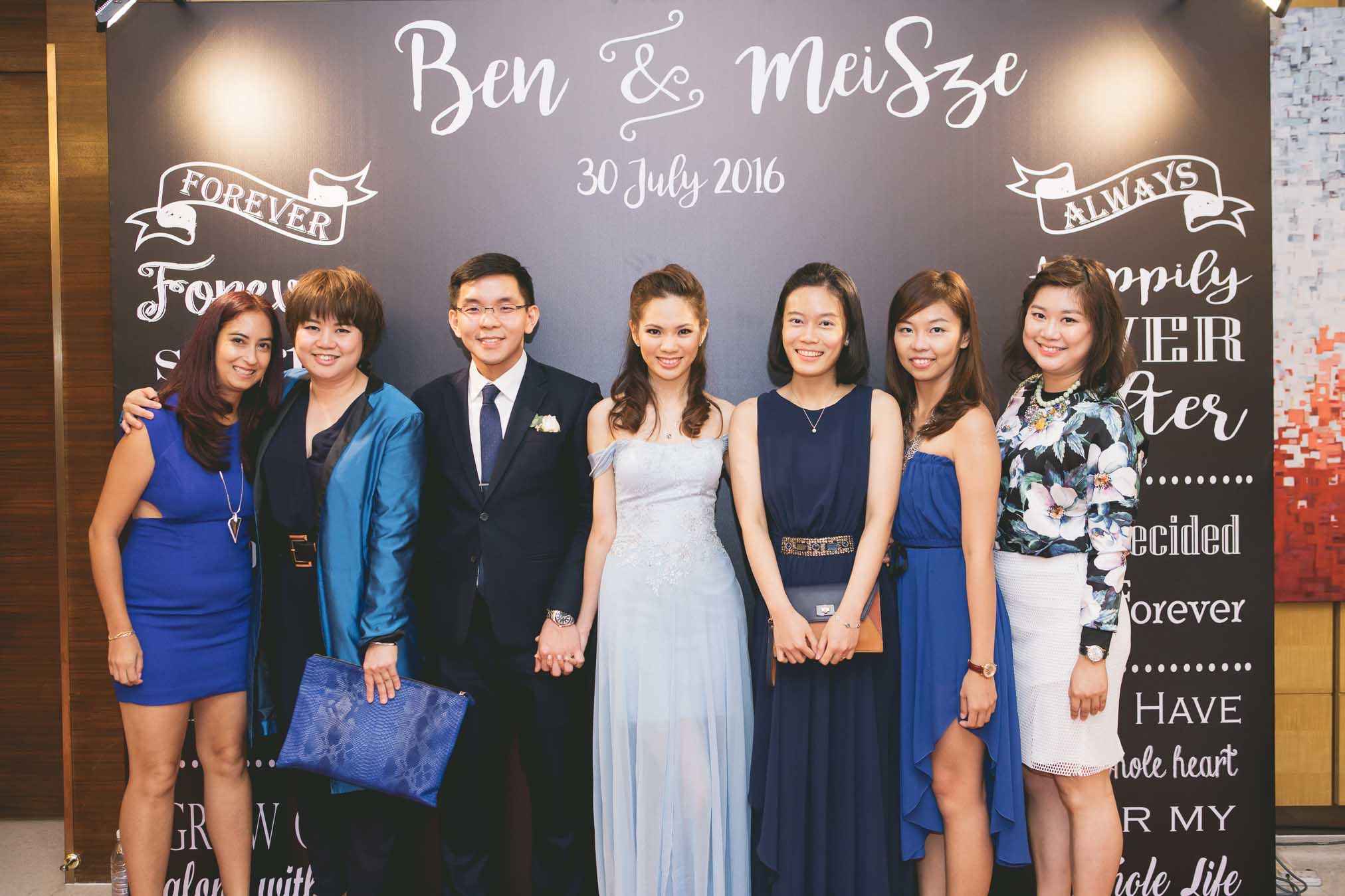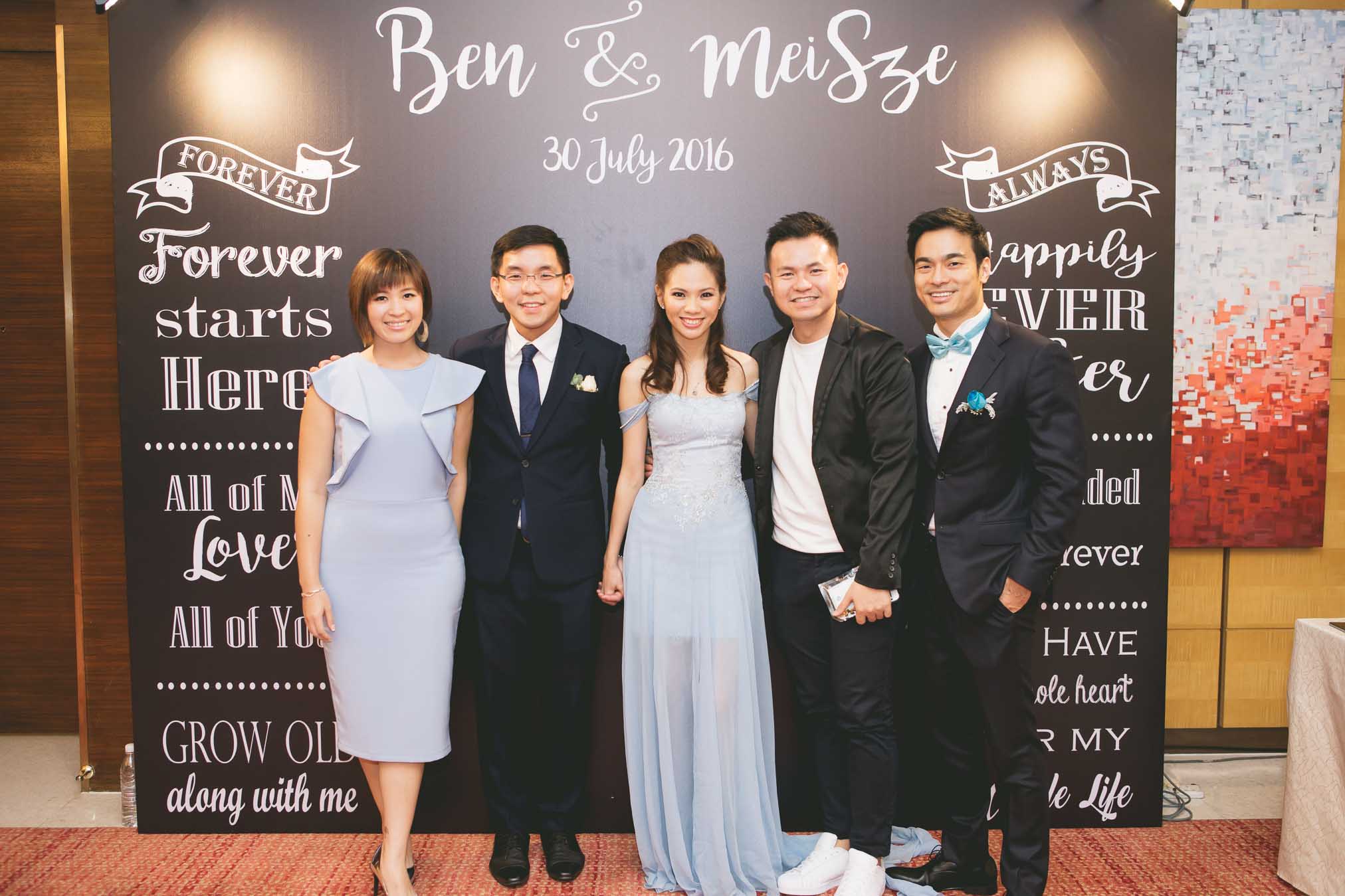 All in all, it was a great wedding because it was personalized, and everyone had fun!
A must-have for me was a wedding planner, a personalized agenda, a venue who works with you and give you good service, and guests who wanted to be there to celebrate with you:)
You can watch a video of our wedding day below.. enjoy ^^
Love,
Mei Sze
Picture credits: Nick Lim