I would never in my life since I've started blogging think that I would be writing about this… But after sharing all my Big-C struggles and experiences with all of you, I knew that those who read my blog such as yourself are already a part of my life…
Be warned,some parts may actually make you tear up or get really hungry….
Today is my first day back home in Malaysia after 4 exhilarating days in Koh Samui.. All I can say is that it was a PERFECT trip…… but as you already know due to the title.. I would like to detail a very special moment of the trip with you guys which is "The proposal"… and YES, I am ENGAGED 🙂
Before I continue, you are probably gonna ask, DID YOU SUSPECT that he was going to propose in Koh Samui?
Yes, I did suspect because my mom gave it away thanks to a video that Ben asked her to take of my niece by asking her permission to marry me!!! She can't keep secrets but Ben himself was pretty much easy to read by making it an awesome beach getaway upon arrival.
He mentioned that he was going to bring me for dinner at one of the best restaurants in Koh Samui overlooking the open ocean and that we have to be there by 5pm for the sunset. Of course, I thought he was going to propose there. I mean, just look at the scenery from the lobby itself… breathtaking right?
So, we had our drinks at the lounge for an hour plus before we were led to the dinner table
We waited for the sun to start setting before being led to Table 99
We arrived at table 99 which was placed on it's own platform overlooking the ocean. There was just our table on this platform with our own sofa, light AND
Our own private server named Ko. He was so gentle when he explained each dish to us
Best part of the dinner, we didn't know what we were being served as Ben booked a 10 course meal specially prepared by the chef for us… Rightfully, you would think he would propose there right?
Some of the picture of the 10 course meal wasn't too clear BUT the next few food photos may actually get you salivating…. so beware!
Man, the chef spent 3 hours preparing just bread, and the steamed garlic. When you bite into the garlic, it's tastes caramelized and there's no smell at all!!!!! The best part, it's not even a part of the 10 course meal
One of my favorite appetizers, with seared scallop, crisp apple, and apple + pumpkin soup. This was simply divine because I love apple and the scallop was so juicy when you bit into it
While I was eating, this is what I saw…
One of the other appetizers I loved, lightly friend fish with wasabi sauce, mayonnaise and salad. It's not just the way it is prepared that makes you enjoy the meal, BUT it's the blend of flavours that adds the zing in our meal
Another fusion dish that has chicken and the various sauces
As I don"t eat duck, I had to relent as this IS a 10 course meal… but Boy-oh-boy, was the duck tender and the jelly essence was such a good pair with the duck
The pomelo palette cleanser. Such a simple dish, pomelo with sea salt but it really does it's job of cleansing your palette for the mains
I didn't get a good picture of the main dish, but the dishes that makes you go WOW are the 7 appetizers, followed by 1 main course
And two desserts. Both desserts were combined onto this dessert platter, everything made from scratch. As the chocolate mousse was too rich for me, the only thing I really ate was the ice cream and some tiramisu, and yea it's really difficult to fit more inside when you've already eaten like 8 courses!
After this gastronomical journey, I expected the proposal as he was acting really weird already… he kept smiling… so I waited… but nope, we paid the bill and headed back to the hotel
Now, when we walked into the room… I expected it to happen there… but nope, no decoration, just a turned down bed….
Then, he suddenly said, let's go to the balcony to chat… and AHA!  I knew it would happen there.. he opened the curtain.. and
Voila, a beautifully decorated balcony with rose petals, candles, roses, a homemade card with his proposal, and two light blue boxes….
He then asked me to sit on the rocking chair to the side, knelt down and started reading his proposal for me…the 3 things that really ring a bell still and which he always reminds me…
"I always want you to remember these three things….. 1. Never look back , 2. Live life to the fullest, 3. And never look down on yourself"
Even in his proposal, he is thinking of me, and the other thing I remembered him saying was the below line
"Previously when you laughed at me for saying "I love you" one month into the relationship, you asked me whether I knew what love is, but now I can safely say that I know love is putting the other person's happiness above my own"
So, my answer?
A definite YES in tears… I was touched by his words but also the fact that this guy right here who has been through my lowest with me, wiping my poo from my body during my colostomy bag period, staying with me every night in the hospital and not sleeping a wink to make sure my vital stats were alright after surgery(all the nurses told me they have never seen a husband let alone a boyfriend do that for anyone in the ward before), loves me with all his heart and prioritizes my happiness and well being above his even when he proposed to me….Someone who didn't forsake me in my time of need, but continues to lift me up in spirit and confidence day by day…  And THAT is the guy I knew I wanted to marry…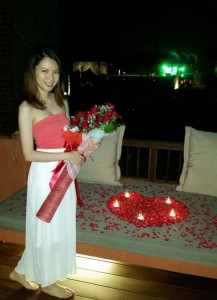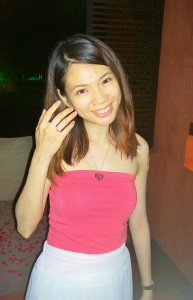 With the ring & Tiffany and Co necklace he got me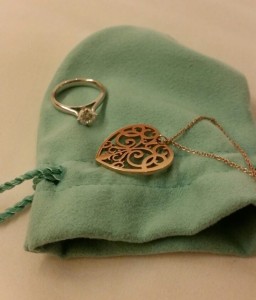 He said that he didn't like the look of the Tiffany & Co ring, so he got me a 101 cut diamond ring but he said… "You deserve something from Tiffany & Co and got me a rose gold necklace"to add on to the ring
Yes, I am now happily engaged to Ben, my soulmate, and a person who I will live the rest of my life with …..I love you Ben Lim <3
I am excited about this new journey we are about to embark on, but I know it's gonna be a fun adventure filled with lotsa love, happiness and understanding!
Love,
Mei Sze