This post is more for men actually and to address some questions they usually ask or are afraid to ask. It started when I was in Korea recently and come to realize that the men there actually take care of their skin and make an effort to.
However, in Malaysia, when men do that… their guy friends go into a rant about how "gay" or sissy they are! Personally, I feel that guys who admit to taking care of their skin are macho and own up to something they should do for themselves rather than have pock marked skin and oily ones! One of the reasons I am proud of my boyfriend, Ben is the very fact he admits to putting masks on his face as a form of relaxation and he likes beauty products too, more than me actually!!!
I completely embrace men who are metro-sexuals, who care about their skin and fashion sense as well. The person who admits to it is the one macho one instead of those who insults guys who actually care. Why would girls want to date a guy who has oily skin, or dresses badly right? This is the truth guys..so listen up!
A guy who does selfies… aawww
A guy who travels with me even to places where I am definitely shopping -sweet!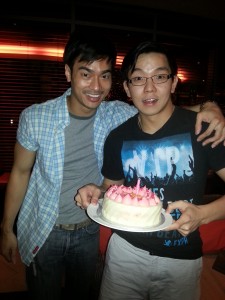 These two guys are very MACHO in my eyes because they believe in being a SNAG – sensitive new age guy:)
For guys who do not admit to caring for their girlfriend, enjoying shopping occasionally, and taking care of their skin…they are probably the ones with more insecurities… In Psychology, it's a form of defence mechanism called projection : p
Now you guys know girls like me prefer men who take care of themselves, its time to make a small difference to your life, start to look good and feel good, and let the girls come to you *wink*?
One of the steps to get a great looking and non-oily complexion is cleansing. Cleansing is important because it cleanses your skin to unclog all dirt, oil and impurities from your skin. It refreshes your skin and makes you look good and feel good.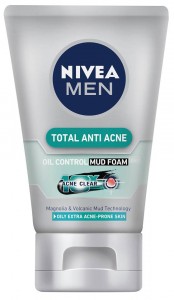 Nivea Men Total Anti Acne Mud Foam contains 0% harsh ingredients (i.e: Salicylic Acid), uses natural Magnolia Bark Extract that is gentle, yet effectively combat 10 acne signs without causing skin to get dry, easily irritated and red. Skin is clear and acne free making men 10x more confident.
10 signs of acne include bacteria, blackheads & whiteheads, blemish, dark acne spots, red marks, enlarged pores, acne scars, oiliness,  dull skin, uneven skin.
NIVEA MEN. It Starts With You.
For more info do head over to NIVEA MEN Malaysia's website: www.niveamen.com.my or NIVEA MEN Malaysia's Facebook page: www.facebook.com/myniveamen